This page is the brochure for your selected program. You can view the provided information for this program on this page and click on the available buttons for additional options.
University of Durham, England
Durham, United Kingdom
(Outgoing Program)
Program Terms:
Program Terms:
Academic Year

Budget Sheets
Academic Year

Dates / Deadlines: - unrelated header
Dates / Deadlines:
There are currently no active application cycles for this program.
Fact Sheet: - unrelated header
Fact Sheet:
Program Description:
Program Description:














Students of Classical Studies and Archaeology have the opportunity to study for the academic year at the University of Durham in Durham, England. The University of Durham is home to one of the largest and most prestigious departments of archaeology in the United Kingdom.

For more information, please visit the University of Durham website.

Note: You must apply and be accepted through Dickinson before finishing and submitting a partner program application. Partner program providers make all final admissions decisions.
University of Durham—Durham, England, United Kingdom
The University of Durham is connected to centuries of academia, stretching back to the medieval era. Three colleges run in Durham were incorporated into Oxford University; the university itself was created in 1832 and is the third-oldest in England. At its center is the Durham World Heritage Site, encompassing Durham Castle and the Shrine of St. Cuthbert. Durham University is ranked as one of the top 5 in the United Kingdom; archaeological research produced here has been judged the best in the UK.
Eligibility
This Partner program requires students to have at a minimum:
3.0 cumulative GPA
All students must have a declared major at the time of application. As a part of the review process students' conduct records and account status are also reviewed. Students and their parents should note that the review process takes all elements of the student's academic record into consideration and that even if a student has the required minimum GPA and language pre-requisites, he or she may not be admitted.
Students who have questions about the review process or their particular candidacy for a program should come into the Center for Global Study and Engagement for advising.
Center staff will not discuss students' applications with parents, friends or any other party without the student's consent and presence in the conversation.

What is the focus of the program?
This program is geared towards students studying Archaeology, Classical Studies, or Latin; it is a year-long program.
What classes are available?
You will take classes applicable to the program focus in classical archaeology; these may be based in the Archaeology, Classics, or Ancient History departments. Sample courses include Mediterranean Expansion: Rome and Native Societies, Ancient Empires of the East, Ancient Mediterranean Civilizations: East and West, History of the Hellenistic Age, and Crisis of the Roman Republic.
Will the courses count towards my major?
Students must take a normal full load which is 120 UCU's on this program. Students may not under-enroll under any circumstances. If a student registers for more than the maximum courses allowed without permission from the University of Durham, their academic advisor at Dickinson, and the Center for Global Study and Engagement, the course credit will not transfer. Students will also be responsible for any additional fees for doing this.

Only liberal arts classes will qualify for transfer credit. If in doubt, consult the on-campus director or resident director as appropriate.

Generally speaking, courses must have an equivalent at Dickinson. Exceptions include classes that focus on the culture and/or history of the country in which the student is studying.

Transfer credit will not be awarded for coursework that duplicates what a student has already completed at Dickinson.

All University of Durham courses will be listed on the Dickinson transcript with letter grades earned, but will NOT be computed into the student's GPA. For these courses, credit toward the degree will be granted only if grades of "C" (2.00 on a 4.00 scale) or better have been earned. Official Durham transcripts of the grades earned at the University are kept in the student's permanent file in the Registrar's Office at Dickinson College.
Will they count in my GPA?
No, courses taken at the University of Durham will not count in your Dickinson cumulative GPA; however, grades will appear on your transcript.
Is there a language requirement?
No, the primary language spoken is English.

Does this program include any group travel once I'm in country?
Activities and excursions will be arranged by the University of Durham, often by the College in which you reside. Students are encouraged to use the $750 credit applied to their Dickinson student account each semester to participate in these activities or to plan independent travel on their own.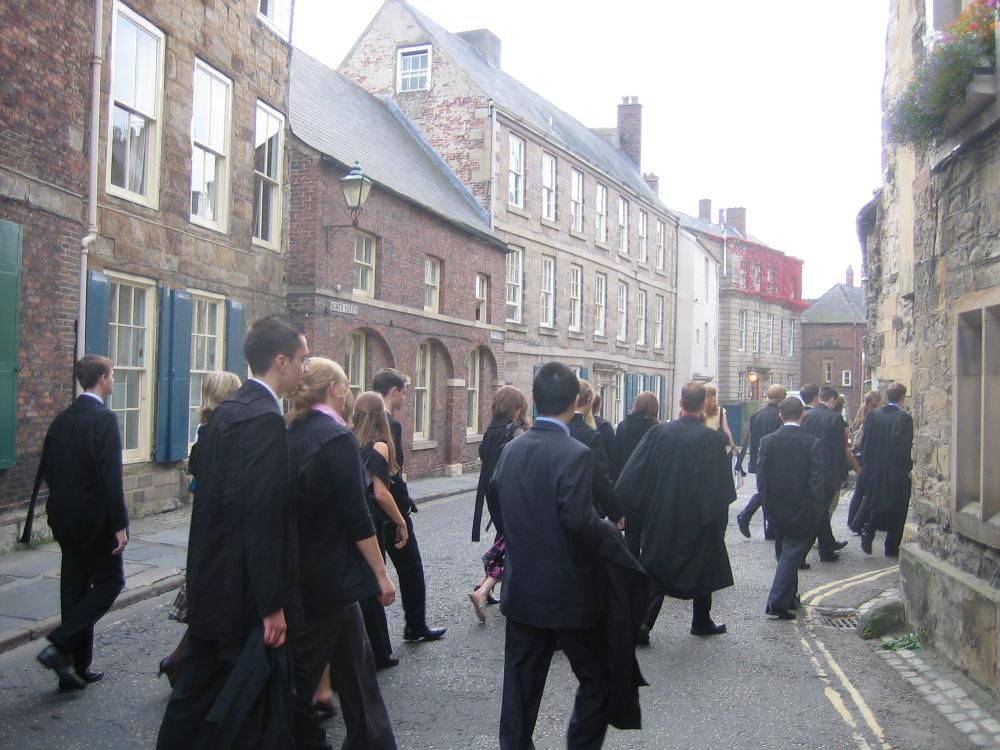 Is there an orientation?
In addition to the mandatory pre-departure orientation at Dickinson, there will be orientation when you arrive in England. During Induction Week (the first week of the autumn term), international students are able to attend a number of information sessions and opportunities to get to know one another.
What are the program dates?
Tentative dates for Dickinson programs and partner programs may be found here.
Is there a group flight?
Due to the limited number of participants, a group flight will not be offered.
What if my family wants to visit me?
Great! But, please do not make travel plans until you arrive at the program and become familiar with your class schedule and program excursions. It is not acceptable to skip class for personal travel.
When will I have time to travel?
You will have time for personal travel during academic breaks from the university—for example, during winter and spring vacations.
Can I arrive early or stay after the program ends?
Students may not arrive early or stay late at the University of Durham. However, students may choose to travel on their own either before or after the program. You should consider your visa validity when you make the decision of whether or not you may arrive early or stay late. No student may arrive late for the start of the program.

How much does the program cost?
Students pay Dickinson comprehensive fees to attend this program. The cost includes tuition, room, board, and a cultural allowance of $1500. The cultural allowance will be deducted from the Dickinson comprehensive fee by Student Accounts each semester ($750 per semester). Airfare and visas are not included in this cost.
Click here for the program budget sheet. It can be found at the top of the page to the left of the Apply Now button.
How much extra money do I need to bring?
This depends on you. We encourage students to not travel every weekend, but to really engage their host city in meaningful ways during their semester abroad. An estimate of personal expenses is included on the budget sheet, but it really depends on you and your spending habits.
As per the budget sheet, students should expect to spend around $1500 during the year on additional cultural activities, many of which are sponsored by the university.
Will I receive a stipend?
No.
How will I access my money in Durham?
If you have an ATM card that draws on a U.S. checking account in your name (NOT a savings account) and shows a CIRRUS symbol, you should be able access it throughout Europe. It's not necessary to open up a British bank account, but some students find it helpful, particularly if they are working in Durham. These accounts are normally free to set-up and make withdrawing money around England, and often, Europe, much easier, since debit cards drawing on these accounts can be used almost everywhere. In order to open a bank account at a nearby bank, students should bring their passport, a letter from University of Durham, and proof of address.
Can I work part time?
You are permitted to work for pay for up to 10 hours per week if you are on a Tier 4 Student Visa. You will first need a Temporary National Insurance Number, which can be acquired through the International Students Office. On-campus employment is limited; however, there are many cafés, shops, and pubs that generally employ students off-campus and in the city.
Should I buy an international cell plan or purchase a mobile phone in the UK?
Most students purchase UK cell phones with a pay-as-you-go plan.
Are there scholarships available for this program?
Dickinson scholarships and aid applies to all Dickinson and Dickinson partner programs; Dickinson does not offer additional scholarships for study abroad. You can visit the scholarships page for information on other scholarships designed to support study abroad.

How do I access health care in Durham?
Academic year international students are entitled to free medical care under the National Health Service (NHS); students will need to pay for medicine prescribed by these doctors. During the first week of the school year, students are able to register with the University Health Centre where most students go to receive medical care.
How much will it cost to go the University Medical Centre?
Based on student feedback, you should plan to pay about 20GBP for a visit to the medical center for a routine medical issue.
Dickinson also provides students with medical and travel security assistance through International SOS. For more information about health and insurance abroad, please click here.

Where will I live?
Durham is collegiate university and every student at the University is a member of one of the 15 Colleges. Colleges normally provide accommodation and all meals for their members. Students apply for accommodation on the Durham application form. Dickinson students have lived in several different colleges including the College of St. Hild and St. Bede and St. Cuthbert's Society.

Are internships available?
Internships are not generally available; however, many students have undertaken independent research projects while in Norwich. Students are permitted to work; see finances for more information
Can I conduct research while abroad?
Students can conduct research abroad under the guidance of a Dickinson advisor. The Student International Research Fund (SIRF) was established to help students with extra travel costs associated with independent research projects. Students are encouraged to present their research at the International Research Symposium when they return to campus.

What is a visa?
A visa is a document, normally affixed within your passport, which allows you to enter the country and stay for the duration of your program. The requirements for the visa and visa process are controlled by the government of the country you are entering, are non-negotiable, and can change regularly. If you arrive without the proper visa, you will be sent home by immigration officers at your own expense.
Do I need a visa?
A student visa is required to participate in the Durham program. If you do not hold a U.S. passport, you should consult with the British embassy in your country of citizenship for the student visa requirements. Academic year participants are required to obtain a Tier 4 visa.
How do I get a visa?
Academic year students will need to make an appointment to obtain their biometric data (e.g.: fingerprints), and then submit previously-gathered documents that are required for the Tier 4 Visa. Please consult the Visa Guidelines for your country of study.
Do I have to go to the consulate/embassy?
No, students do not need to go to the British consulate offices. Academic year students will have to make an appointment to obtain their biometric data, for submission with their visa application documents.
How much does a visa cost?
The visa fee is currently set at £255; however this amount is subject to change. Be sure to check the consulate's website for any fee change before you submit your visa paperwork.
How long does it take to receive my visa?
It can take at least 2 weeks to obtain a student visa. You will need to relinquish your passport during this time.
If I'm not a U.S. passport holder, are there any additional requirements?
Yes, you will need to do your own research on visa requirements for citizens of your home country to study in the UK. The CGSE may be able to help you with the required documents. Also, you will need to inform International Student Services that you will be studying outside of the United States and discuss how you will remain in valid F-1 status during your studies abroad.

Global Ambassadors
Global Ambassadors are returning study abroad students who serve as peer advisors for their program. Please feel free to contact them for a student perspective. Currently, there are no Global Ambassadors for this program. For more information, contact CGSE.

For more information, contact:
Advisors (Please call for an appointment):
Center for Global Study and Engagement
Dickinson College
717-245-1341
global@dickinson.edu
Archaeology Contact: Prof. Chistofilis Maggidis
Department of Archaeology
Phone: (717) 245-1014
e-mail: maggidic@dickinson.edu

Classics Contact: Prof. Christopher Francese
Department of Classical Studies
Phone: (717) 245-1202
e-mail: francese@dickinson.edu
University of Durham: www.dur.ac