This page is the brochure for your selected program. You can view the provided information for this program on this page and click on the available buttons for additional options.
Brisbane, Australia
(Outgoing Program)
Featured:
Dates / Deadlines: - unrelated header
Dates / Deadlines:
There are currently no active application cycles for this program.
Fact Sheet: - unrelated header
Fact Sheet:
#i18n(14)# parameter/value output
Language of Instruction:
English

Glossary entry for program parameter 10006

Class Eligibility:
2-Sophomore, 3-Junior, 4-Senior (fall only)
Minimum GPA:
3.0

Glossary entry for program parameter 10000

Housing Options:
Apartment, Residential College
Maximum Credits Earned (per semester):
4.0
Academic Area of Study:
American Studies, Anthropology, Archaeology, Art & Art History, Astronomy, Biology, Chemistry, Classical Studies, Computer Science, Dance, Earth Science, East Asian Studies, Economics, Education, English, Environmental Science, Environmental Studies, Film Studies, Geology, History, International Business and Management, International Studies, Law and Policy, Mathematics, Music, Neuroscience, Philosophy, Physics, Policy Studies, Political Science, Psychology, Religion, Security Studies, Sociology, Theatre, Women's and Gender Studies

Glossary entry for program parameter 10009

Foreign Language Prerequisite:
none
Program Description:
Program Description:
*Spring 2021 will be the final semester that the Dickinson in Australia program will be offered. Beginning Fall 2021, the Dickinson in New Zealand program will be offered in place of Australia.

Overview
Students in the Brisbane, Australia, program attend the University of Queensland (UQ), one of Australia's esteemed "Group of Eight" institutions. Originally created to provide an international-study option for science, math and psychology majors, the program also offers opportunities for qualified non-science majors. UQ is known for its course offerings in business, economics, sociology, health and environmental studies.
Brisbane is a sub-tropical city of approximately 1.6 million people situated along the east coast of Australia. Known for its relaxed life style, educated and multi-ethnic work force, and extensive cultural opportunities, Brisbane has been named "Australia's Most Livable City." The state of Queensland is climatically and geologically diverse. It is home to a portion of Australia's famed outback, the Great Barrier Reef and the Daintree Rainforest - the oldest rainforest in the world.

Find more details below and in the Dickinson in Australia HANDBOOK
Eligibility
The expectations to apply for this program are as follows:
3.0 cumulative GPA
Open to all majors. Students majoring in biology, chemistry, computer science, environmental science, geology, mathematics, physics and psychology are encouraged to apply.
All students must have a declared major at the time of application.
As a part of the review process students' conduct records and account status are also reviewed. Students and their parents should note that the review process takes all elements of the student's academic record into consideration and that even if a student has the expected GPA and language pre-requisites, he or she may not be admitted.

Students who have questions about the review process or their particular candidacy for a program should come into the Center for Global Study and Engagement for advising.

Center staff will not discuss students' applications with parents, friends or any other party without the student's consent and presence in the conversation.
University of Queensland
The University of Queensland (UQ) is home to 33,000 undergraduate and graduate students studying in 400 different majors and programs. The university offers more than 5,500 courses annually, ensuring that Dickinson students from a broad spectrum of disciplines will find coursework to enhance their academic pursuits. Each year more than 3,800 international students from more than 80 countries join the student body at UQ in pursuit of higher education.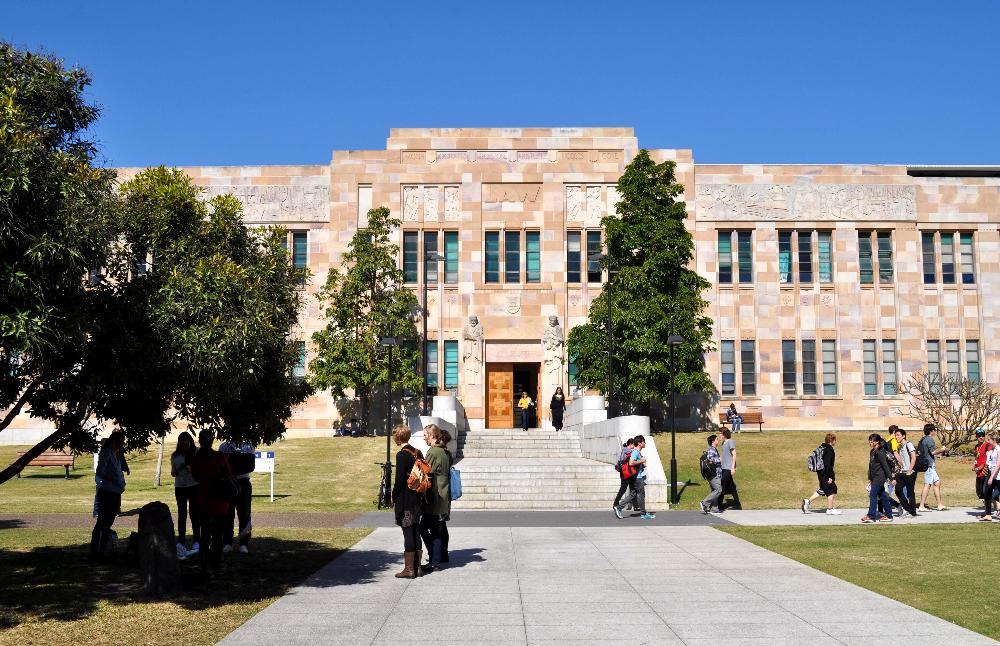 UQ is well known for its science programs and is one of eight Australian universities designated as a research institution by the national government. It is noted for both excellent teaching and research, particularly in laboratory and field-based courses. The program at UQ complements Dickinson's curriculum by extending the range and variety of courses available within a major, while fostering greater international awareness and understanding through formal study and informal interaction.


Academics
The Dickinson College program at the University of Queensland was originally designed to provide students studying biology, bio-chemistry, molecular biology, chemistry, computer science, environmental science, geology, mathematics, physics and psychology with the opportunity to expand their understanding of those major disciplines through international study. Although the principle focus is to provide a study abroad option for science majors, the program offers opportunities for most majors. UQ is known for its course offerings in business, peace and conflict studies, economics and sociology, as well as health and environmental studies.
Dickinson in Australia is designed as a semester-long program. On occasion, students study at UQ for a full year. UQ's first semester runs from mid-February through June and corresponds to Dickinson's spring semester. UQ's second semester runs from mid-July through November and corresponds to Dickinson's fall semester.
Students enroll in a total of four courses at UQ. The typical student takes two courses in his/her major, one course in Australian culture and/or history, and one course as an elective in an area of personal interest. While the program does not have a required core course, students must enroll in at least one course with a content focus on Australian culture and/or history.
Qualified students from non-science majors are invited to apply. Each semester, several spaces on the UQ program are designated for non-science majors. Additional non-science applicants are admitted on a space-available basis.
Examples of courses that fulfill the Australian culture and/or history requirement:
Aboriginal Women
Origins of Australia
Race and Ethnic Relations in Australia
Contemporary Australian Foreign Policy
Research with Indigenous People
Critical Social Issues in Australian Society
Aboriginal and Torres Strait Islander Perspectives

How is instruction different?
There are fewer assessments/assignments, more emphasis on independent work, and courses in Australia tend to be difficult. The average class size is also much larger than you may be used to with many lectures containing around 100 or more students. However, most lectures at UQ are accompanied by "tutorials", or additional class sessions that take place in much smaller groups and allow students to review course material with qualified tutors.
What classes are available?
Most classes offered at UQ are available. However, you must go through a pre-approval process to receive your desired courses. Only courses offered at the St. Lucia campus and count as a Liberal Arts course are available. Also note which semester a particular course is offered, because not all courses are taught every semester. A list of the majors and corresponding courses can be found at http://www.uq.edu.au/study/
When will I register for classes?
You will register for classes prior to your arrival in Australia after you have received official acceptance by UQ. You can register on-line at www.sinet.uq.edu.au, with the student ID information given to you after you have been accepted by UQ.
Will the courses count towards my major?
Many courses taken at UQ can count towards your major. A few departments have pre-approved courses. For all other majors you should check with your academic advisor on campus prior to course selection and departure to Australia.
Course Equivalencies: The following departments at Dickinson have made University of Queensland course equivalencies available on their website. If you have any questions, please contact the department directly.
Will they count in my GPA?
Some UQ courses in various academic departments are approved as "Dickinson courses" by some Dickinson academic departments. Letter grades earned for these courses will be included in the student's GPA.

All psychology courses will count towards the GPA, regardless if a student takes the course(s) for psychology major credit or not

All other UQ courses will be listed on the Dickinson transcript with letter grades earned, but will NOT be computed into the student's GPA. For these courses, credit toward the degree will be granted only if grades of "C" (2.00 on a 4.00 scale) or better have been earned. Official UQ transcripts of the grades earned at the University are kept in the student's permanent file in the Registrar's Office at Dickinson College.
What is a full course load and How will my courses transfer?
All students on the University of Queensland program are required to take a course load of 4 courses (approximately 40 points). If you take 4 courses at the University of Queensland, you will receive 4 credits (unless you take an additional course that is considered as half a credit, in which you would receive 4.5 credits. You must have permission from the CGSE to take more than 4 credits.)

Students must take a normal full load as defined by their program. Students may not under-enroll under any circumstances. If a student registers for more than the maximum courses allowed without permission from their academic advisor at Dickinson and the Center for Global Study and Engagement, the course credit will not transfer. Students will also be responsible for any additional fees for doing this.

All students are required to take one Australian culture course. Please see the handout on Australian culture courses included with your acceptance packet.

Only liberal arts classes will qualify for transfer credit.

Generally speaking, courses must have an equivalent at Dickinson. Exceptions include classes that focus on the culture and/or history of the country in which the student is studying.

Transfer credit will not be awarded for coursework that duplicates what a student has already completed at Dickinson.

Credits will only transfer if you receive the course equivalent of a "C" or better (a 4 out of the 7 point Australian grading scale). For all courses taken at the University of Queensland, the equivalent letter grades earned ARE RECORDED on the student's transcript, however, grades WILL NOT be computed in the Dickinson GPA, with the exceptions being noted above.

Dickinson uses the following grade conversion chart to transfer grades earned in Australia on to the student's Dickinson transcript:
| | |
| --- | --- |
| 7 | A |
| 6 | A- |
| 5 | B |
| 4 | C |
| 3 | F |
| 2 | F |
| 1 | F |
Is there a language requirement?
No, Australia is an English speaking country.
Academic Excursions
Does this program include any group travel once I'm in country?
Yes, it does. Participants in this program typically enjoy a multi-day excursion to another region or city in Australia mid-way through the semester. There are also several visits to historic and cultural sites around Brisbane as components of the orientation program.
What expenses are covered during excursions?
Students' lodging costs will be covered during overnight excursions. Also, any meals that would not be otherwise covered by a standard meal stipend for all students on the program will be covered. Group transportation to and from the excursion site, as well as group travel for all group activities will be covered. Students will not be reimbursed for snacks, personal travel and personal activities during an academic excursion.
When will I find out where and when we're travelling?
Specific dates and locations for the multi-day excursion will be announced at the beginning of the semester. Site visits in and around Brisbane will be organized and announced by the On-Site Director at orientation.
Can a friend or family member who is not on the program also travel with us?
No, unfortunately, for logistical and academic reasons non-program participants are not able to join the program for excursions.
Are excursions optional?
Not necessarily. All students should plan to participate in all excursions. If a student misses an excursion or a planned departure for a trip, these arrangements and costs will not be made up for the student. It is each student's responsibility to be where they need to be in order to participate fully in each excursion.
Dates and Flights
When is orientation?
In addition to the mandatory pre-departure orientation at Dickinson, there will be an on-site orientation when you arrive. In Brisbane, students' on-site orientation occurs the week before classes begin and is a combination of UQ's orientation for international students as well as activities designed just for the group from Dickinson.
During the orientation, you will meet and work with the on-site director, Ann Wadsworth. Orientation events include a tour of campus, an overview of Brisbane's public transportation system, university registration meetings, and an overview of your health and safety while studying in Australia. The orientation also includes several activities in and around the Brisbane area such as a visit to Lone Pine Koala park and, if the schedule permits, taking in a local sports match (Aussie football rules, anyone?).
What are the program dates?
Dickinson in Australia ACADEMIC CALENDAR

Students on this program will be provided with a date on which they must arrive in Brisbane (BNE). If there are enough students a group flight will be offered from the west coast. You must communicate your arrival plans with the on-site director Ann Wadsworth as well as the CGSE. To notify the CGSE, you should enter the flight information in your online application.
Is there a group flight?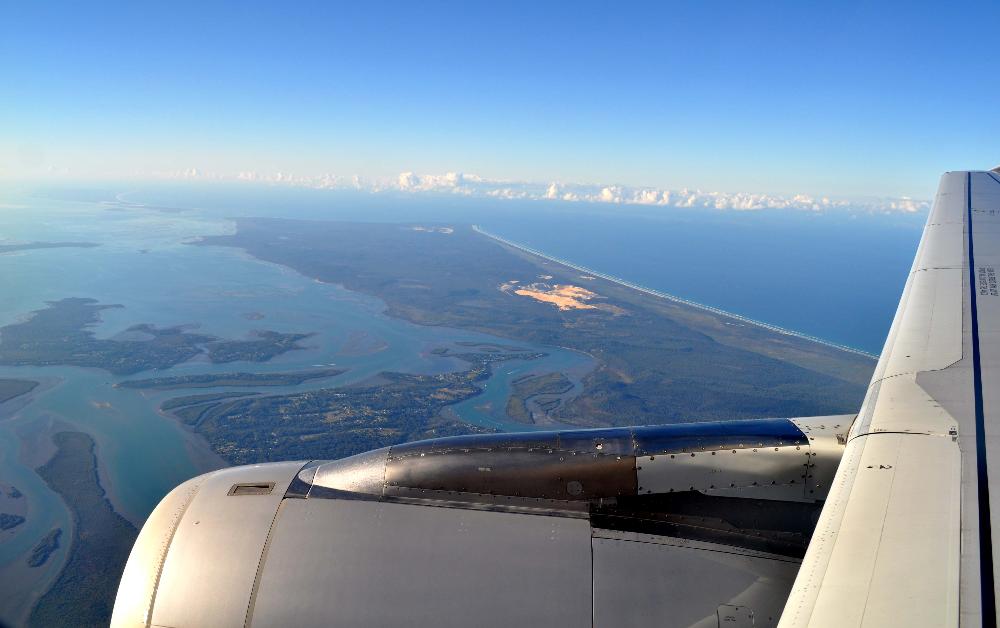 Unless otherwise stated, the CGSE does not arrange group flights. Students are responsible for booking their own travel to/from Australia. Accepted students will be given a timeframe in which they should plan to arrive and depart. Students should not purchase their flights until instructed to do so by the CGSE and/or on-site staff. We encourage students to carefully review the change fees and cancellation policies before booking a flight.

The CGSE does not endorse any particular travel agent or booking website but does provide additional guidance about booking flights on the CGSE website.
What if my family wants to visit me?
If you have family or friends who are planning to visit you, please do not make travel plans until you arrive at the program and become familiar with your class schedule and program excursions. It is not acceptable to skip class for personal travel.
When will I have time to travel?
There will be a group academic excursion to another region in Australia mid-semester as well as a university break. Many students also travel on their own during major Australian holidays when classes are not in session.
Can I arrive early or stay after the program ends?
Students may arrive early or stay late if they wish to travel on their own when classes are not in session. Please note that if you choose to arrive early or stay late, you will need to contact Ann Wadsworth or your residential college staff if you intend to stay in program housing. You should also consider your visa validity when you make the decision of whether or not you may arrive early or stay late. No student may arrive late for the start of the program.
Finances
How much does the program cost?
The program budget sheet can be found at the top of this page, under "Fall, Spring, Year (SH)" to the left of the Apply Now button.
What is included in the program fee?
The fee includes tuition, room, board, academic excursions, and emergency insurance. Airfare and visa fees are not included. The budget sheet also lists additional fees students should anticipate.
Is my flight included?
The flight is not included, but the cost is taken into consideration when your financial aid need is calculated for your semester abroad.
How much extra money do I need to bring?
This depends on you. We encourage students to not travel every weekend, but to really engage their host city in meaningful ways during their semester abroad. An estimate of personal expenses is included on the budget sheet, but it really depends on you and your spending habits.
Will I receive a stipend?
No, you will not receive a stipend. Students who live off-campus in Brisbane will receive a full-board credit on their Dickinson student account before they leave for the program. While this effectively reduces the cost of the program, you need to be prepared to take this money with you to purchase groceries and meals. Students who live on campus receive a full board plan and do not receive a credit.
How will I access my money in Brisbane?
It is encouraged and incredibly easy to open an Australian bank account and having an Australian ATM card will ensure that you can access money from anywhere in Australia without worrying if your U.S.-issued ATM will work. Full-service banks and multiple ATM's are conveniently located across campus. The On-site Director will discuss how to open a bank account during on-site orientation. You may also wire transfer money from any U.S. bank to your Australian account for a fee.
Can I work part time?
Your visa allows you to work while studying in Australia up to 20 hours per week; however, you will not be able to apply for the work permit until you have enrolled as a full-time student at UQ. Part-time work is often difficult to find and there is a strong competition for jobs, especially those located around the University of Queensland campus. There are opportunities to apply for work within your residential college, usually in the cafeteria. However, these positions can be hard to get because the colleges like to hire students who will be at the college longer than one semester. There is also an Employment Officer on campus that can help students looking for part-time work, most of which is non-professional, such as waiting tables, cleaning, or retail/sales. Based on feedback from past students, it seems that you may have better luck going to shops with your resume and asking if any jobs are available.
Health
How do I access health care in Brisbane?
The Australian government requires that all study abroad students be covered by Australian health insurance through the Overseas Student Health Cover (OSHC) Scheme. OSHC will be paid for by Dickinson College as part of your UQ Program costs. OSHC provides free or discounted access to the UQ Health Service and to public hospitals. You will apply online and your insurance card will be sent to you at your address in Brisbane. Dental care and optical care are NOT covered by OSHC, so you should schedule any necessary examinations before you depart since they are considerably more expensive in Australia. Please note that the OSHC insurance is NOT a substitute for the required health and accident insurance purchased in the United States that you must have to study abroad. The OSHC insurance will not cover you outside of Australia.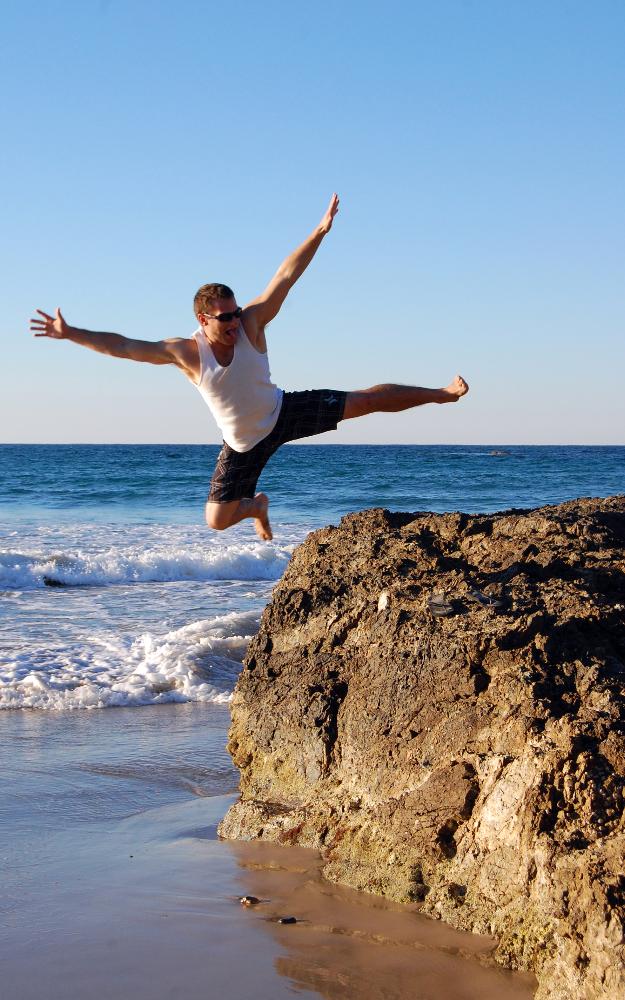 The University Health Service (UHS) is available on campus and a wide range of general medical services is provided to help with health and/or personal problems students may have.
University Health Services
Gordon Greenwood Building (Bldg 32)
Ph: 3365 – 6210

How much will it cost to go to a doctor?
Treatment at the UHS is generally covered by OSHC. Non-emergency hospital care and access to some medical services in some public hospitals may be limited. Private hospital health care will typically incur some out of pocket costs that are not covered by your Overseas Student Health Cover policy and will be your responsibility.
What if I become seriously ill?
Call emergency services for an ambulance; then contact your resident director immediately after.

Dickinson also provides students with medical and travel security assistance through International SOS. Please visit our Health and Insurance Abroad page for more information.
Housing
Where will I live in Brisbane?
Students are either housed in apartments near the University or on campus in residential colleges, depending on availability.
Where is my apartment located?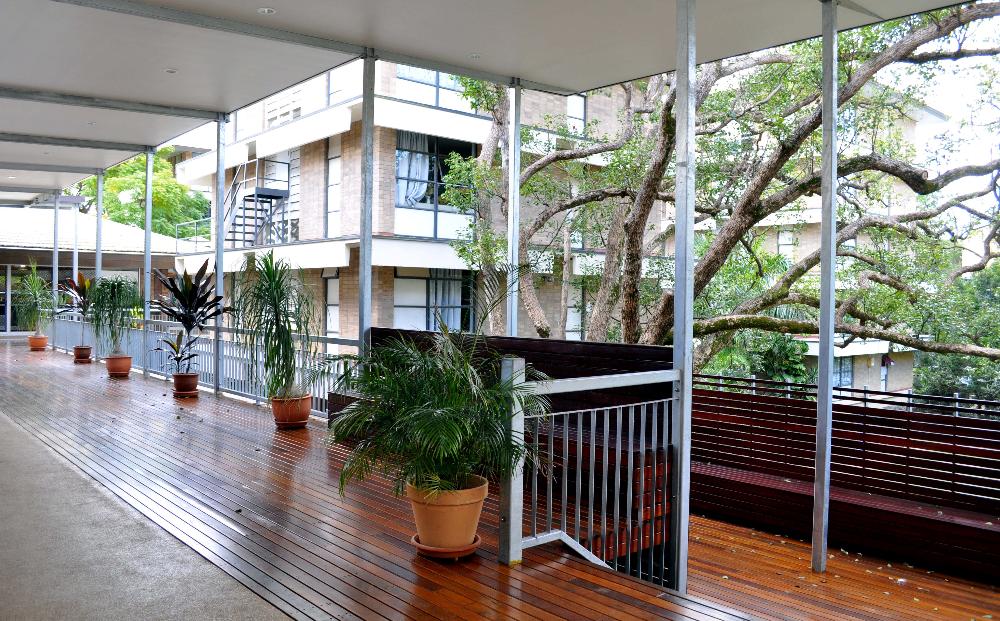 Apartments are located in St. Lucia, a suburb of Brisbane, approximately 7 km from the Brisbane city centre. Most properties in St. Lucia are within walking distance to the UQ campus. There is no train station located in St Lucia, but there are buses that connect to the train station in nearby Toowong. There is also a bike path that runs along the river between St Lucia and Brisbane city centre. A 10-minute bus-ride takes you to a choice of two large shopping centres, cinemas, and some popular student bars.
When do I find out information about my housing?
You will submit a housing preference form after you are accepted to the program. Our program staff in Brisbane will work with the University and local realtors to match you with your housing preference. Unfortunately, due to high housing demand around the university, students' first housing preference is not guaranteed.
Full details about your housing will be sent to you from your On-site Director as soon as it becomes available.
Who will I live with?
Students living in apartments may be housed with other Dickinson students or other international students attending UQ. Students residing in residential colleges are considered "freshers", or first-year students, but they will be living with Australian students of all different class years.
Will I have my own bathroom?
You will share a bathroom.
Will I have access to a kitchen, laundry facilities?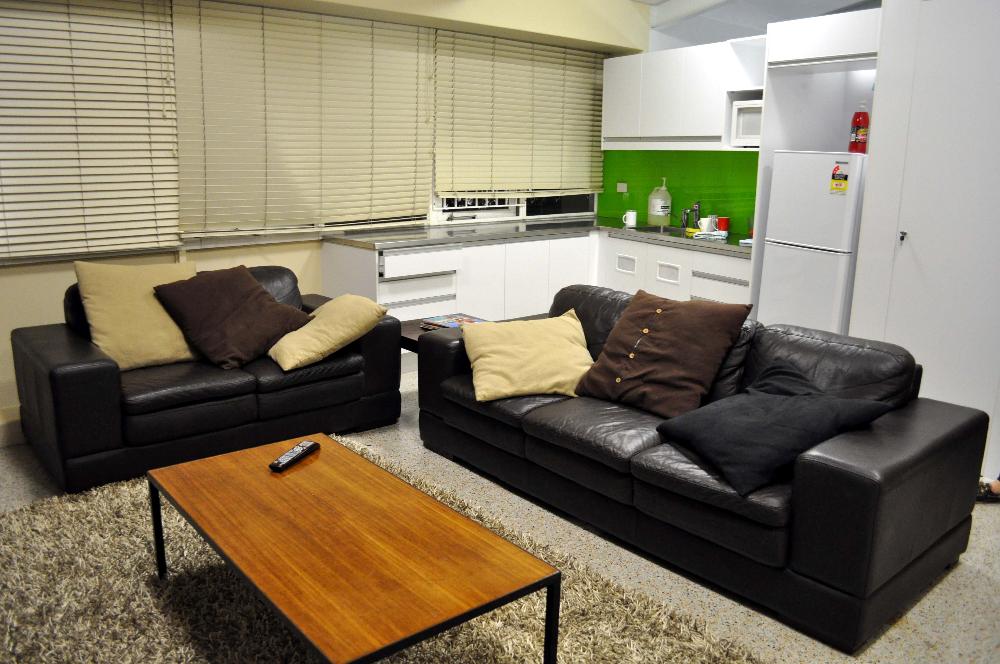 Students living off-campus will have a well equipped kitchen and will receive a board credit on their Dickinson student account for meals prior to departure (see Finances). Students are expected to have brought this credit with them. There are grocery stores within walking distance to your apartment and larger grocery stores can be reached using public transportation. There are several open-air markets held in Brisbane suburbs on different days throughout the week. Groceries are considerably more expensive in Australia than in the U.S. and you should be prepared for this. Soda, snack food and pre-packaged food are expensive as are imported American foods. Students should prepare to embrace their inner chef and try cooking from scratch! There is no cafeteria on campus but plenty of eateries and cafes nearby. Laundry facilities are available in the apartment buildings.
Students living on campus receive a board plan and eat meals in their residential college. Each residential college is managed independently and amenities often differ. Laundry facilities are generally available in the building.
What's the difference between living off-campus and on campus?
Students living in residential colleges will eat in the college cafeteria and social activities will be planned. Most of the residential colleges at UQ aim to promote a community atmosphere within the residence, and students may find that they are expected to actively participate in the social life of the college (e.g., attendance at formal dinners, participation in sporting/cultural events, and orientation week activities).
Students living off campus are more independent and will experience UQ like most Australian students who come to campus for classes or an event and then return home or to their off campus apartments. Off campus students will need to work a little harder to meet Australians by getting involved in clubs and activities on campus, of which there are many (keep in mind these clubs and sports often ask for membership fees and there are also social sport opportunities on campus that are much more cost-effective. Dickinson provides some funds for both a gym membership and funds towards a residential college affiliation, but does not cover the whole cost of this.). Off campus students have the option to become an affiliate member of a residential college. This membership allows you to attend the residential college's social events and eat in the residential college cafeteria one meal a week.
You are strongly encouraged to read the UQ website (search "accommodations") and familiarize yourself with the campus and culture when selecting your housing preference. While feedback from past participants is helpful, you should consider your own goals and expectations for your study abroad experience.
What if I don't get along with my roommates?
Ann Wadsworth, our on-site director, is there to help you with any housing concerns should you need them. Students living in residential colleges should discuss any roommate concerns with the residential college staff and contact Ann if necessary.
Will I have internet access in my residence?
There is no such thing as unlimited internet in Australia and Australians pay for each MB of data used. Students living in residential colleges will have a combined internet limit of 10GB/ month (combined internet total from both the college and UQ) Internet connection is free for UQ students on campus, which allows you to download up to 300 MB per month. If you run out, additional download capacity can be purchased on campus for a relatively nominal fee. Off campus students will also receive a data plan for their house and in addition, they will also receive a monthly limit from UQ which can be used on campus. Additional data can be purchased at your own expense for either the house data plan or the UQ quota. You may need to change your internet patterns and pay careful attention to streaming music, movies, and long skype conversations.
Internships/Research
Are internships available?
Internships are not generally available in Australia.
Can I do research while abroad?
Research opportunities may be available in specific departments at UQ. Please speak directly with the academic departments, once you arrive at UQ, if you are interested in pursuing these opportunities.
Additionally, students may be able to conduct research abroad under the guidance of a Dickinson advisor. The Student International Research Fund (SIRF) was established to help students with extra travel costs associated with independent research projects. Students are encouraged to present their research at the International Research Symposium when they return to campus. For more information, click here.

Academic year only students may consider participating in The University of Queensland's Summer Research Program (summer is November - February!), available to study abroad students and UQ students. The program lasts for 6 to 10 weeks from mid-November to mid-February, the summer break period. Students apply between June 1 and August 30 every year; all students are eligible for a scholarship, and international students can receive a payment of $1000 to cover living expenses. Research opportunities are available in many departments--not just in the sciences! Examples of past topics included "English literature/history," "Applied cognitive psychology," and "The Poverty-Environment nexus." For more information click here.
Visas
What is a visa?
A visa is a document, normally affixed within your passport, which allows you to enter the country and stay for the duration of your program. The requirements for the visa and visa process are controlled by the government of the country you are entering, are non-negotiable, and can change regularly. If you arrive without the proper visa, you will be sent home by immigration officers at your own expense.
Do I need a visa?
Dickinson in Australia VISA GUIDELINES

A student visa is required to participate in the Brisbane program. If you do not hold a US passport, you should consult with the Australian embassy in your country of citizenship for the student visa requirements as your application process may differ from students with US passports. Obtaining a student visa is the student's responsibility. We will review the guidelines for obtaining a student visa at the Pre-departure Orientation.
We have produced visa guidelines to provide you with an overview of what you will need to do to obtain a student visa. Please note: this is only a tool to help you get started! It is not a substitute for consulting with the Australian consulate that has jurisdiction over your state of home residence. Make sure you are familiar with the most up-to-date regulations by visiting their website frequently.
Also, you need to ensure that your passport is valid for 6 months after the program end date.


How do I get a visa?
For US passport-holders, the Australian student visa process is all online! It takes about 20 minutes to complete and a successful application will result in a digital visa within 48 hours of its submission. If you are not a US citizen, please see the question below regarding your visa status.
Please consult the Visa Guidelines for your country of study.
Do I have to go to the consulate/embassy?
US passport-holders do not need to visit an embassy or consulate to obtain the student visa.
How much does a visa cost?
Currently the visa fee is set at AUD $550 and this can only be paid by credit card; however this amount is subject to change.
How long does it take to receive my visa?
Your visa application will be approved about 48 hours after submission.
If I'm not a U.S. passport holder, are there any additional requirements?
Yes, you will need to do your own research on visa requirements for citizens of your home country to study in Australia. The CGSE may be able to help you with the required documents. For international students, you are often required to take a new English language proficiency test in order to apply for the visa. In addition, non-US citizens often need to apply for the visa in their home country and may not be eligible to apply for the visa online. Please let Stephanie Gulden at CGSE know immediately if you are an international student wishing to apply for the Dickinson in Australia program.
Also, you will need to inform International Student Services that you will be studying outside of the United States and discuss how you will remain in valid F-1 status during your studies abroad.
Will the Center help me with the visa?
Yes, we provide you with visa guidelines, as well as various required documents needed for the visa process.
Student Perspective
Global Ambassadors are returning study abroad students who serve as peer advisors for their program. Please feel free to contact them for a global student perspective.

Contacts
Study Abroad Advisors (Please call for an appointment):
Center for Global Study and Engagement
Dickinson College
717-245-1341
global@dickinson.edu

Stephanie Gulden
Center for Global Study and Engagement
guldens@dickinson.edu
On-Site Administration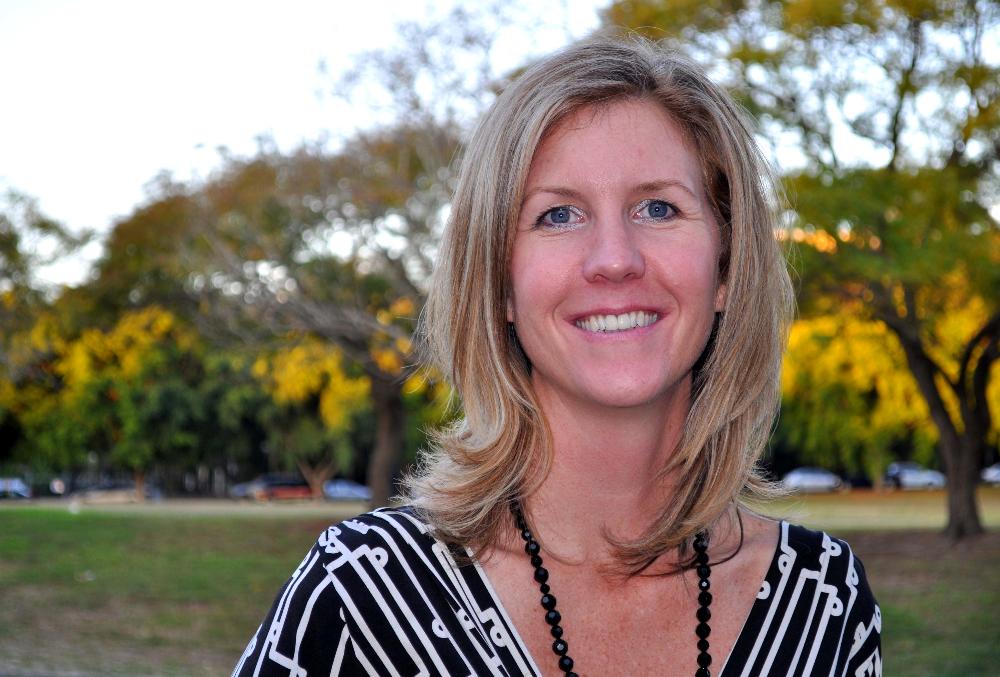 Ann Wadsworth is the on-site director of the Dickinson College program at UQ. She was formerly employed by UQ in its office for international students and was instrumental in the founding of the Dickinson College program at UQ. She is responsible for arranging housing for students, providing a general orientation to Australia, Brisbane and UQ, assisting students with course enrollment, organizing Dickinson academic excursions and managing the day-to-day operation of the program.