This page is the brochure for your selected program. You can view the provided information for this program on this page and click on the available buttons for additional options.
Bremen, Germany
(Outgoing Program)
Featured:
Dates / Deadlines: - unrelated header
Dates / Deadlines:
There are currently no active application cycles for this program.
Fact Sheet: - unrelated header
Fact Sheet:
#i18n(14)# parameter/value output
Language of Instruction:
German

Glossary entry for program parameter 10006

Class Eligibility:
2-Sophomore, 3-Junior
Minimum GPA:
2.8

Glossary entry for program parameter 10000

Housing Options:
Dorms
Maximum Credits Earned (per semester):
4.0
Academic Area of Study:
Africana Studies, Anthropology, Biology, Chemistry, Economics, English, Environmental Science, Environmental Studies, German, History, International Business and Management, International Studies, Internships, Mathematics, Music, Philosophy, Political Science, Psychology, Religion, Security Studies, Sociology, Theatre

Glossary entry for program parameter 10009

Foreign Language Prerequisite:
4 semesters (college) of instructional language
Program Description:
Program Description:
Overview
Before beginning the William G. and Elke Durden Bremen Program, participants take part in a pre-semester orientation and complete a four-week, one-credit, intensive language course. This gives students in the academic-year program the freedom to brush up on their German-language skills in another part of the country before settling in Germany's smallest city-state, Bremen, a harbor town on the Weser River with a population of more than a half-million people.
With a history dating back more than 1,200 years, Bremen is remarkably adept at blending the traditional and the contemporary: "preserve the old, try the new" has long been a Bremen motto. The old city center still is surrounded by earthen ramparts and a moat, although the latter now serves as a public park. The city plays host to a number of industries familiar to Americans, including Airbus, Mercedes-Benz, Kraft Foods, and Beck's beer.

Below are general FAQs. For more specific and up-to-date information, please refer to the Dickinson in Germany HANDBOOK.
University of Bremen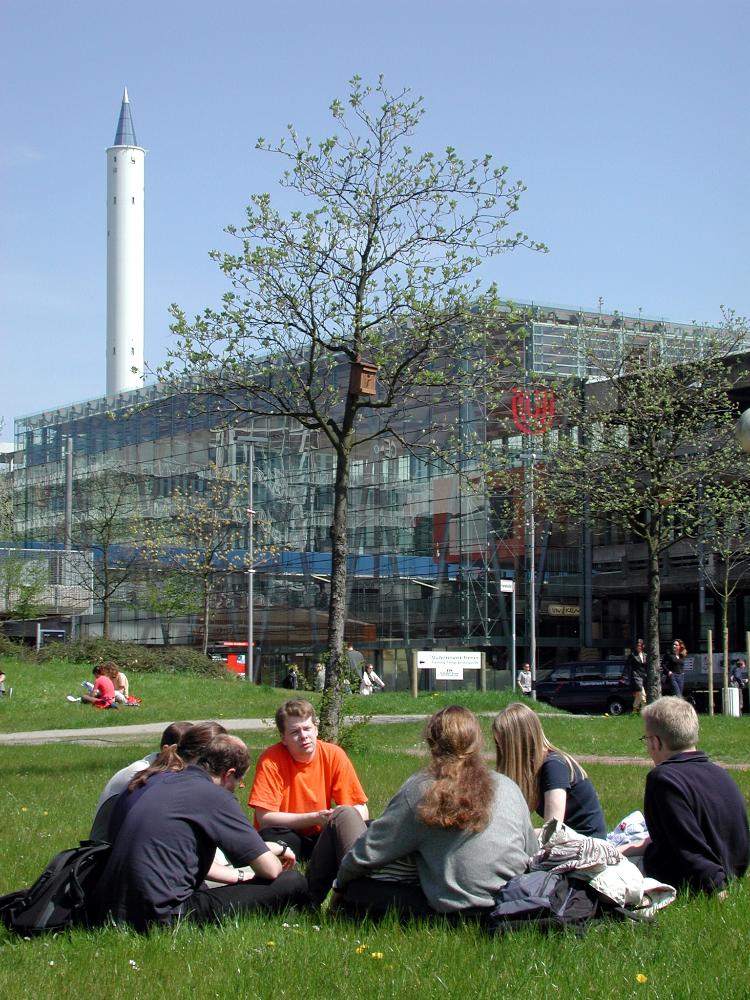 Dickinson's host university in Germany, the University of Bremen, was founded in 1971 and has been a model for German higher education ever since. During a recent German initiative to identify the country's best universities, the media dubbed the University of Bremen the "Marvel on the Weser," and Bremen was named among the top 10 institutions of higher learning in Germany. Hallmarks of a University of Bremen education include interdisciplinary study and research, research-based teaching projects and a pervasive focus on internationalization.
A great variety of course offerings are available at the University of Bremen, which has an enrollment of about 20,000 students.
By enrolling directly in the University of Bremen under the guidance of an academic director, participants, who must be suitably proficient in German, get the best of both worlds: the experience of studying in the German university system, which requires students to be more self-motivated and self-directed, and the type of faculty oversight that most American students are accustomed to receiving.
Program participants have numerous opportunities to engage with the university outside of the classroom and to immerse themselves in the local community. Many students play on university sports teams or join one of Bremen's many sports clubs. Others sing in choirs, join bands and participate in other new activities and established hobbies. The city of Bremen also serves as a hub for social life beyond the campus. Daily life in the city, coupled with academic excursions to other regions, gives students ample opportunity to experience German culture throughout the program. Since the Bremen program is very flexible, excursions can be arranged in various regions in Germany and Europe, according to the students' specific interests or fields of study.
Eligibility
The expectations to apply for this program are as follows:
2.8 GPA
Students much complete the equivalent of two years of college-level German. An additional course is strongly recommended.
Interviews, in German, may be conducted at the discretion of the faculty coordinator at any time in order to review a candidate's eligibility for this program
All students must have a declared major at the time of application.
As a part of the review process students' conduct records and account status are also reviewed. Students and their parents should note that the review process takes all elements of the student's academic record into consideration and that even if a student has the expected GPA and language pre-requisites, he or she may not be admitted.
Students who have questions about the review process or their particular candidacy for a program should come into the Center for Global Study and Engagement for advising.

Center staff will not discuss students' applications with parents, friends or any other party without the student's consent and presence in the conversation.

Academics
Students may spend a full academic year or the spring semester studying in Germany. All participants first take part in a pre-semester orientation and complete a four-week, one-credit, intensive language course. For academic-year participants, this gives students the freedom to brush up on their German language skills in another part of the country before settling in Bremen. Spring semester participants complete their language intensive course in Bremen. During the regular academic year, students are required to complete a one-semester core course relating to German area studies and, in addition, may take classes in any department or field within the bounds of their degree course scheme.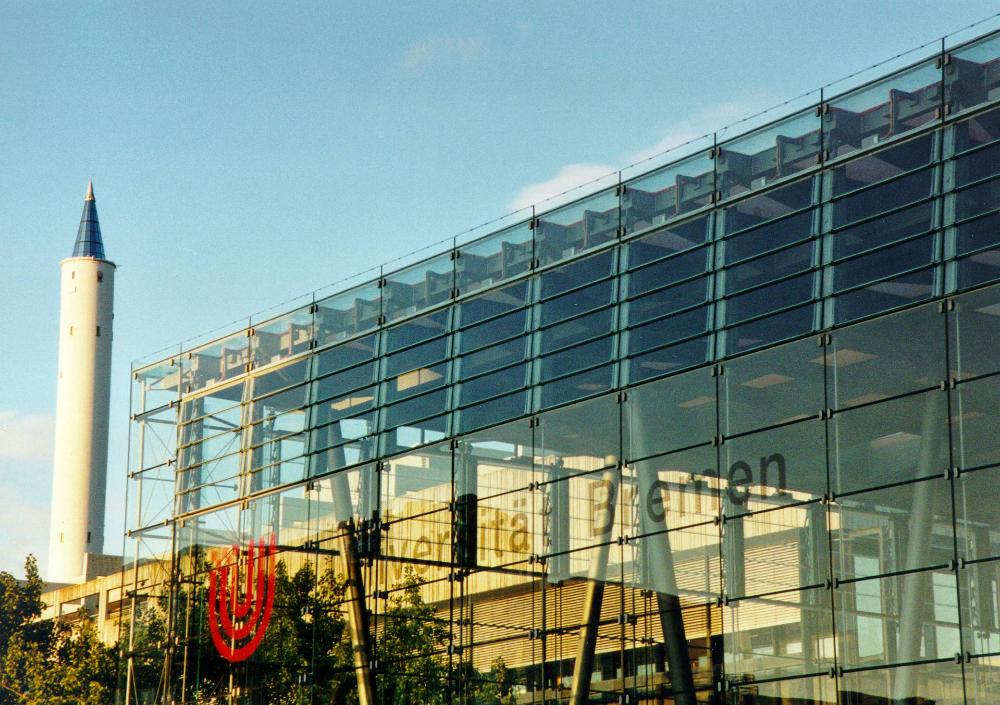 Classes are available in a wide range of disciplines, including German language and literature, fine arts, anthropology, business, economics, sociology, science, history, music, political science, cultural studies and religion.
Students who successfully complete the academic year in Bremen earn between eight and nine credits, depending upon their selected courses. Students who study in Bremen for the spring semester may earn up to five credits, if they successfully complete the pre-semester intensive language course.
How is instruction different?
Studying in Bremen, particularly during the first weeks, is likely to feel confusing and at times a little daunting. The German university system is fundamentally different from undergraduate programs in the U.S. It expects independent study and individual inquiry rather than structured assigned reading and continuous assessment. You must assume responsibility for your studies and your course work in order to have a rich and academically rewarding year. Although seminars are often much larger, you should make an effort to talk in class.
What classes are available?/When will I register for courses?
Course selection takes place after your arrival in Bremen and in close coordination with the academic director. The director will work with you to identify the appropriate types/levels of courses as well as the number of credits you need to fulfill. During the first two weeks of the semester, you will sit in on a number of courses before making a final commitment to your schedule and course selection. This process is one that requires you to speak to both University of Bremen faculty to understand the course expectations as well as to remain in contact with your advisors in the US.

In the fall semester, GRMN 340 Comparative Cultures is required. Students are also required to enroll in German language courses called studienbegleitende Sprachkurse, unless they have reached the C1 level of proficiency upon completion of their summer intensive language course.

In addition to these courses, you may enroll in most courses offered at the University of Bremen, provided you have the appropriate linguistic skills and academic background to do well in them. Options for independent study are generally available.

At German universities, course catalogues are available exclusively online. A complete course listing is available online.
Will the courses count towards my major?
Typically, you will earn one (1) course credit for a regular university course, i.e., lectures and seminars (Vorlesungen und Seminare). The required work may vary – the most common formats are oral presentations, papers of 15-20 pages, and written (or oral) exams. Please note that the pages are 1.5-spaced and calculated based on the amount of text in the paper.

You will earn a one-half (0.5) course credit for successful completion of skill courses (Übungen -- including all Studienbegleitende Sprachkurse in German or other foreign language courses).

Otherwise consult your major advisor on courses that count towards your major.
Will they count in my GPA?
For each successfully completed course, you will receive a certificate (Schein) from the instructor, which you will hand in to the Academic Director. Using these originals and the Grade Equivalency Chart the Registrar will convert the German notation to an equivalent letter grade. All courses will appear on the Dickinson transcript with (translated) course titles and letter grades.

*German 340, the Comparative Cultures courses taught by the Academic Director during the fall semester, is a "Dickinson course" and will be calculated into the GPA.
What is a full course load and How will my courses transfer?
During the academic year, students should enroll in four courses per semester. Five courses constitute a course overload, for which a student must apply. It is not recommended to take more than four courses in the first semester in Bremen.

For successful completion of a normal full-time course load at the University of Bremen, you can receive the equivalent of eight to nine course credits for the year or up to four and a half (4.5) course credits each semester without a course overload. One Dickinson course credit is equal to 6 ECTS (European Credit Transfer System). Courses with 3 ECTS transfer to Dickinson as half a credit (0.5) and courses with 9 ECTS equal 1.5 credits.

The Intensive Language Course taken outside of the academic semester in the summer or before the spring semester counts as one course credit towards the 32 needed to graduate and is not included in the full-time course load at the University of Bremen. It does not count towards the German major or minor.

Including the one course credit for successful completion of the Intensive Language Course, you may transfer a maximum of ten (10) total credits for the year or five (5) for the semester.

To receive credit for a course, you must show satisfactory performance at a level equivalent to a Dickinson "C" (3.7 on the German scale) or above.

Only liberal arts classes will qualify for transfer credit.

Generally speaking, a course must have an equivalent at Dickinson in order for you to earn credit. Exceptions include classes that focus on the culture and/or history of the country in which the student is studying.

Transfer credit will not be awarded for coursework that duplicates what a student has already completed at Dickinson.
Is there a language requirement?
Students must complete the equivalent of two years of college-level German and at least one additional course taught in German or have the approval of the German Department before studying abroad.

Those who become truly proficient in German should consider taking an academic German language proficiency test (TestDaF). If you pass this difficult test, you will receive a document (Bescheinigung) that certifies your language ability and will enable you to study at any German university you wish at any time in the future. If you are at all serious about returning to Germany to study, this is an important addition to your CV. It is also useful for letters of recommendation from the German department, should you apply for work or a graduate program in Germany. The Foreign Language Institute (Fremdsprachenzentrum) offers a special preparatory course for this test. Ask the on-site staff about the catalogue of the Institute's offerings.
Academic Excursions
Does this program include any group travel once I'm in country?
Yes, it does. Participants in this program typically enjoy day excursions to numerous historic and cultural sites around Bremen as components of the core course in the fall. All students on the program during the fall semester travel to Hamburg and Berlin. During the spring semester, program participants will go on an academic excursion to Vienna. On a limited basis and through the generosity of donors to the College, academic year students in Bremen have been able to take part in a multi-day excursion to Krakow and Warsaw Poland in recent years.
What expenses are covered during excursions?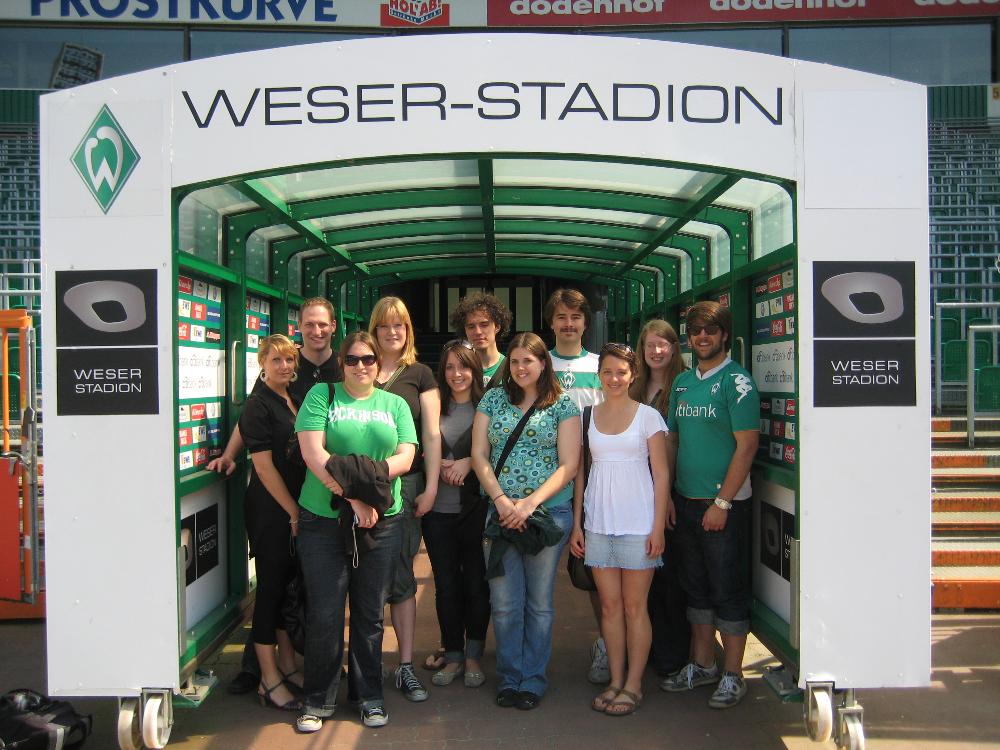 Students' lodging costs will be covered during overnight excursions. Also, any meals that would not be otherwise covered by a standard meal stipend for all students on the program will be covered. Group transportation to and from the excursion site, as well as group travel for all group activities will be covered. Students will not be reimbursed for snacks, personal travel and personal activities during an academic excursion.
When will I find out where and when we're traveling?
Once in Bremen, on-site staff will inform students in a timely manner of all program-related excursions.
Can a friend or family member who is not on the program also travel with us?
No, unfortunately, for logistical and academic reasons non program participants are not able to join the program for excursions.
Are excursions optional?
No. These excursions are linked to your academic program and, in some cases, content delivered through the excursion will be relevant to a student's studies and assessment. All students should plan to participate in all excursions. If a student misses an excursion or a planned departure for a trip, these arrangements and costs will not be made up for the student. It is each student's responsibility to be where they need to be in order to participate fully in each academic excursion.
Dates and Flights
When is orientation?
In addition to the full day mandatory pre-departure orientation on campus, there will be an on-site orientation for this program. In Bremen, students' on-site orientation occurs after all students arrive in Bremen (and after each participant's pre-semester DAAD language course). This is usually the week before classes begin and is a combination of Uni Bremen's orientation for international students as well as activities designed just for the group from Dickinson.
During the orientation you will meet and work with the on-site academic director, as well as our program coordinator, Ms. Verena Mertz. Orientation events include a tour of campus and the city, an overview of Bremen's public transportation system, course registration meetings, and an overview of your health and safety while studying in Germany.
What are the program dates?
Dickinson in Germany ACADEMIC CALENDAR

*NOTE - The program is available for the academic year and spring semester. Participants must receive special permission to apply for the fall semester.

Students on this program are afforded the luxury of having a range of dates when they can arrive on site. This is due to the flexibility of the DAAD, pre-semester language course. Academic year students must keep in mind they are responsible for making their own flights and transportation to their language course as well as onward travel to Bremen once their language course has concluded. All academic year participants receive a credit to assist with paying for the pre-semester course, accommodations and transportation to Bremen.
Spring-only students will take a pre-semester language course in Bremen and should plan their roundtrip travel to/from Bremen (BRE).
You must communicate your arrival plans with both the on-site staff as well as the CGSE. To notify the CGSE, you should enter the flight information via the online application system. Students should arrive on the day that works best for them, but they must arrive within the window of acceptable dates in order to be met at the airport or train station and be present for the orientation meetings.
Is there a group flight?
Unless otherwise stated, the CGSE does not arrange group flights. Students are responsible for booking their own travel to/from (country). Accepted students will be given a timeframe in which they should plan to arrive and depart. Students should not purchase their flights until instructed to do so by the CGSE and/or on-site staff. We encourage students to carefully review the change fees and cancellation policies before booking a flight.

The CGSE does not endorse any particular travel agent or booking website but does provide additional guidance about booking flights on the CGSE website.
What if my family wants to visit me?
If you have family or friends who are planning to visit you, please do not make travel plans until you arrive at the program and become familiar with your class schedule and program excursions. It is not acceptable to skip class for personal travel. Also, you will need to speak with your on-site staff before making plans to receive visitors or to travel, as they may have excursions or events planned.
When will I have time to travel?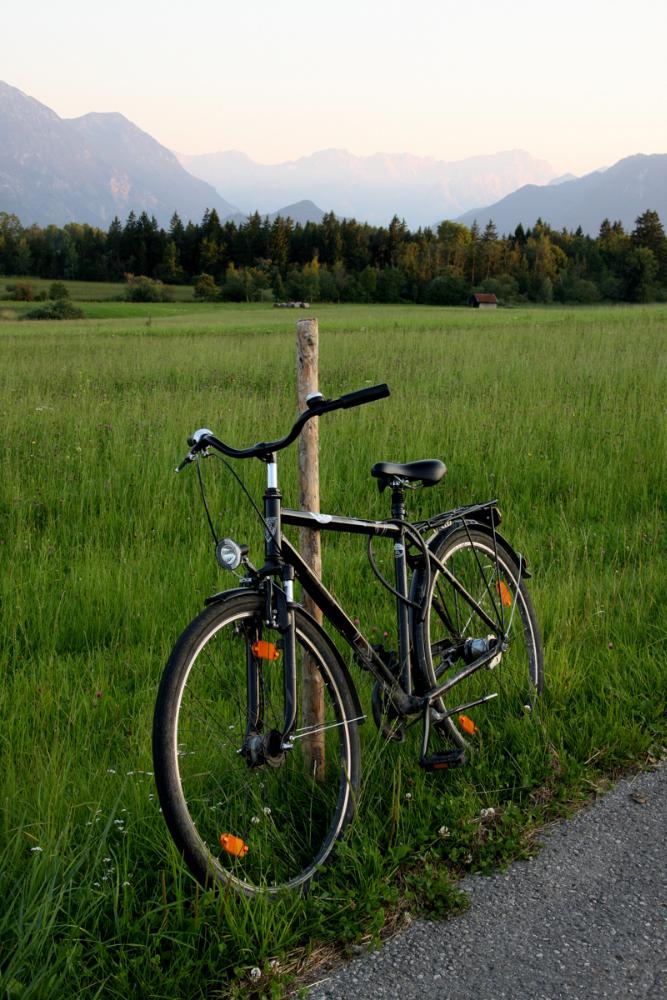 There will be group academic excursions during both semesters. Exact dates for the excursions will be announced at the beginning of the semester. Many students also travel on their own during major German holidays and university breaks when classes are not in session.
Can I arrive early or stay after the program ends?
Communicate with the Program Coordinator before the end of your summer course (by September 1 at the latest) about the day and time of your arrival in Bremen. The coordinator can arrange to have someone meet you at the airport/main station and take you to your room and the University of Bremen. Many students travel before the language course and the beginning of semester. Students who have a valid academic reason for arriving before the recommended arrival date (see the academic calendar link above or contact the program coordinator for current dates) should contact the coordinator at least four weeks in advance with a request for accommodations. It is vital that you inform the coordinator early on about all your pre-semester travel plans; please write an e-mail to Verena Mertz: mertzv@dickinson.edu.

When considering travel plans between the end of your language course and before the semester in Bremen, note that the program orientation begins at least a week before the first day of classes at the University of Bremen. You should contact the program coordinator for specific dates. Again, you should also contact the program coordinator with your arrival information by September 1.

Finances
How much does the program cost?
The program budget sheet can be found at the top of this page to the left of the Apply Now button.
What is included in the program fee?
The fee includes tuition, room, board, academic excursions and emergency insurance. Airfare and visa fees are not included. The budget sheet also lists additional fees students should anticipate.
Is my flight included?
The flight is not included but the cost is taken into consideration when your financial aid need is calculated for your semester abroad.
How much extra money do I need to bring?
This depends on you. We encourage students to not travel every weekend, but to really engage their host city in meaningful ways during their semester abroad. An estimate of personal expenses is included on the budget sheet, but it really depends on you and your spending habits.
Will I receive a stipend?
Yes, you will receive a stipend of 400 € per month. All stipends will end in July (last transaction). Spring students arriving in February will enroll in an intensive language course in Bremen (paid by Dickinson). In February and March, spring-only students will be accommodated for local transportation costs.
How will I access my money in Bremen?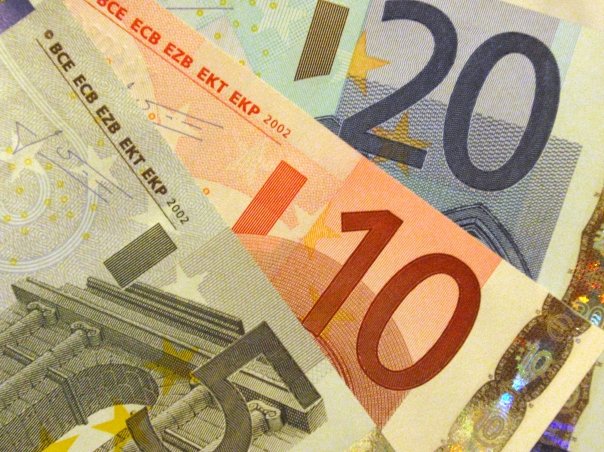 Once you are in Bremen, you will want to open a bank account (Sparkasse Bremen is a good bank, for example, and it and its ATM is located on Uni Bremen campus.) It is free to open up a bank account. We recommend that you select a bank with a branch office near your residence, since you will need to pick up your account statement on a weekly basis (otherwise, it will be mailed to you at your expense).
Can I work part time?
Part-time work opportunities in Germany are few and far between. While you can work in Germany without a permit for a limited number of hours a week, you should not plan on part-time work as a means of financial support.
Health
How do I access health care in Bremen?
Durden Dickinson Program in Germany automatically enrolls all students into the German public health care system and will cover the monthly fees. Doctors usually work by appointments, however, some will have open visiting hours. The Bremen staff will recommend doctors and help in making appointments if requested. Some drugstores will offer 24hr-emergency service beyond their normal opening hours.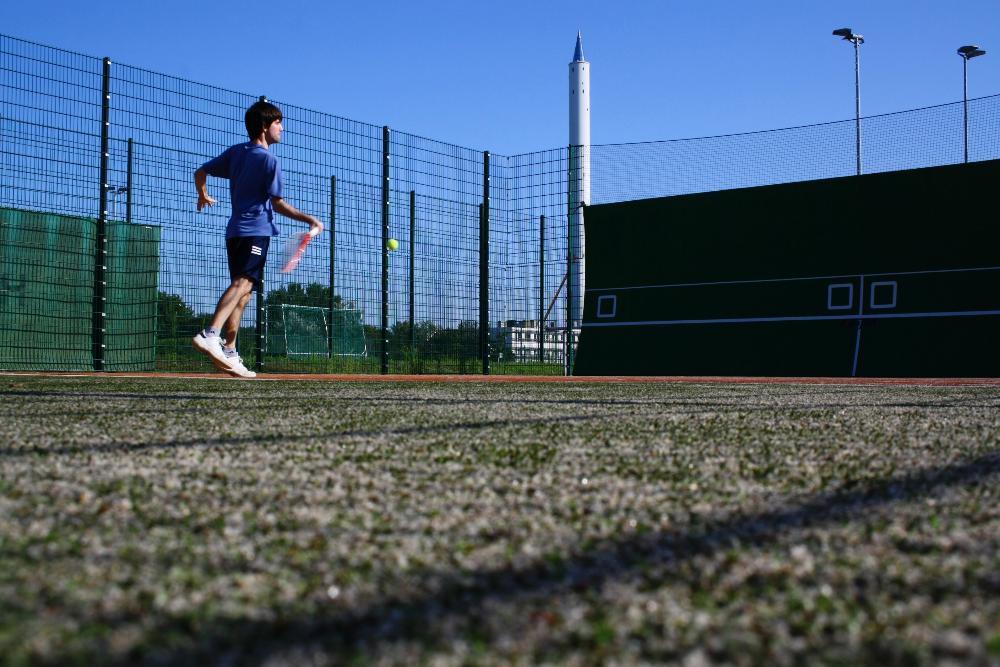 How much will it cost to go to the doctor/medical clinic?
Usually nothing. All fees and charges for medically-necessary treatments (at the doctor's and dentist's, at specialists', stays in hospitals, emergency rooms) are covered by the public health care provider, starting from catching a cold to emergency response treatment and ambulance service. No caps or co-payments apply for the treatment. Only certain types of not-medically-necessary treatments (like homeopathy or alternative medicine), contact lenses and glasses, and small co-payment for a few types of medicine may apply. Coverage starts with the official start of the semester (October 1 for year-long students / April 1 for Spring Semester Students) and ends with the stay of the student. Before October 1/April, your personal overseas health insurance and the Dickinson health insurance (for emergencies) applies. You should be prepared to cover expenses during this time out-of-pocket and seek reimbursement according to the policies.
What if I become seriously ill?
There are four hospitals in the city of Bremen, all with 24hr-emergency medical service and intensive care. Ambulance services operate in all of Bremen around the clock. For less severe emergencies, emergency drugstores are accessible 24hrs a day. In cases of severe illness, students will be supported by the on-site staff who also serve as a link between doctors, parents, and students.

Dickinson also provides students with medical and travel security assistance through International SOS. Please visit our Health and Insurance Abroad page for more information.
Housing
Where will I live in Bremen?
Most students live in a private student dormitory (Studentenwohnheim) called "Am Fleet" on Spittaler Street with another Dickinson program student or in a single apartment not far from the Universität Bremen. All apartments are equipped with bedding, cooking facilities and cookware. You may also choose to live in student suites (Wohngemeinschaften or WG's) or in private rooms in town. Living in a WG is highly recommended, but it does involve extra work on your part. Interested students should contact the Program Coordinator in Bremen months before their stay and will need to look for room offers themselves. Should the rent be higher than in the Studentenwohnheim, you will have to cover the additional costs.
Where is my apartment located?
The Studentenwohnheim is on Spittaler Street, just off the Bremen campus (around 10 minutes by foot). The other housing options are located not far from campus. Bremen has an excellent public transportation system and you will have no trouble getting around.
When do I find out information about my housing?
Full details about your housing will be sent to you from the Bremen staff as soon as it becomes available.
Who will I live with?
Some students may live with another Dickinson student in the Studentenmohnheim, while other students may apply to live in student suites (Wohngemeinschaften or WG's) or in private rooms in town.
Will I have my own bathroom?
In most dormitories, you will share a bathroom with the other students on your floor; likewise in apartments, you will share a bathroom with your roommates. All apartments have their own bathrooms; students in doubles will have to share the bathroom with another Dickinson student.
Will I have access to a kitchen, laundry facilities?
Your residence is equipped with a kitchen. This may be the first time you have lived independently and Germany is a great place to embrace your inner chef. Local supermarkets, corner bakeries, and open-air markets are a great place to explore and practice the language. You will receive a stipend for meals and other expenses (see Finances). In addition, laundry services are located in the building next to the dormitories.
What if I don't get along with my roommates?
The program staff are on-site to help you with any housing concerns should you need them.
Will I have internet access in my apartment?
Yes, all of residences have internet connections. The Dickinson Room at the University also has computers with internet access available for student use.
Internships/Research
Are internships available in Bremen?
Internships are available and students are encouraged to pursue an internship during their time here. The academic director assists in finding appropriate opportunities, although placements are not guaranteed. Recently, students have interned at the Bremen Information Center for Human Rights and Development (BIZME), Center for Clinical Psychology and Rehabilitation (Uni Bremen), Bremen City Theatre, Adult Education Center, Institute for Intercultural and International Studies (InIIS).
Moreover, through our program's contacts with the Bremen United States Center and the Chamber of Commerce, internships with local big businesses may also be possible: Bremen is a city of aerospace and space technology, hosting companies like Airbus, OHB AG, and EADS. Bremen is also home to a number of other international corporations, such as Mercedes-Benz, Kraft Foods, Kellogg's, Jacobs Coffee, and Beck's beer. Other firms have branches here, e.g. Siemens (including Siemens Windpower), Commerzbank, and DLR.
How do I start the process of arranging an internship?
If you are interested in doing an internship in Bremen, you should discuss possibilities and your interests in the fall with the Bremen on-site staff. Please note that there is no guarantee that a student will receive an internship. However, the Academic Director will help you in any possible way to secure an internship, given you show the necessary dedication.
Can I earn credit for an internship?
You will not earn a credit for the internship, however, you may receive a notation on your Dickinson transcript through the Career Center. For more information click here.
Can I conduct research while abroad?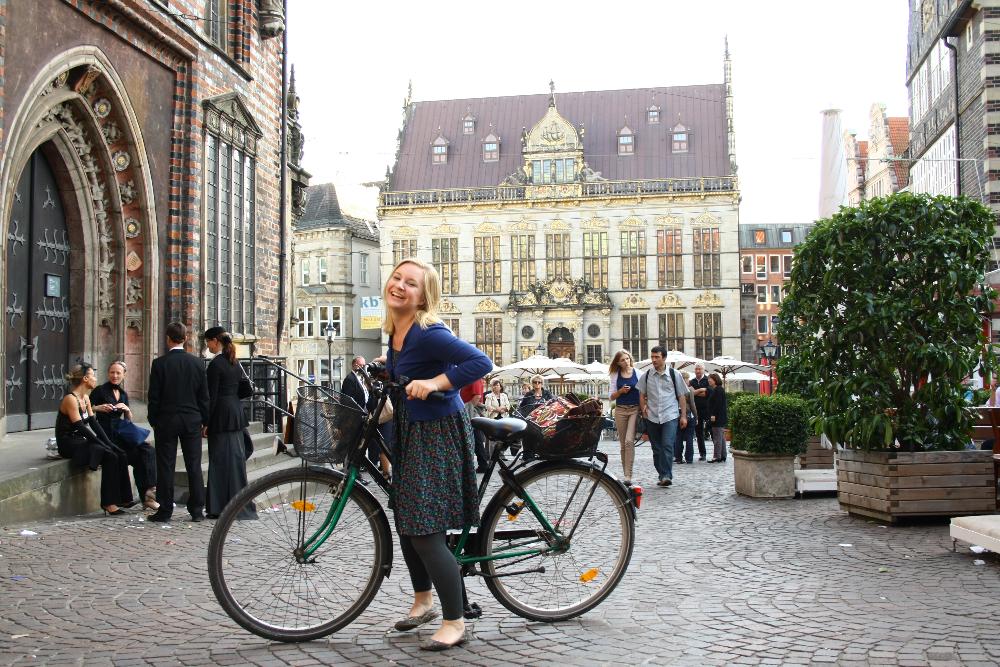 Students can conduct research abroad under the guidance of a Dickinson advisor. The Student International Research Fund (SIRF) was established to help students with extra travel costs associated with independent research projects. Students are encouraged to present their research at the International Research Symposium when they return to campus. For more information on SIRF, click here.
Available internship reports:
Rachel Schilling '16
Ezra Sassaman '16
Nicole Couturiaux '12
Kelsey Power '11
Visas
Do I need a visa?
If you are a US passport holder: no, you do not need a student visa to participate in the Durden Bremen program! You will, however, do a registration process in Bremen with your on-site staff.
Also, you need to ensure that your passport is valid for 6 months after the program end date.
How much does this cost?
Currently the registration process costs €100; however, the Bremen program budget covers this cost.
If I'm not a U.S. passport holder, are there any additional requirements?
Yes, you will need to do your own research on visa requirements for citizens of your home country studying in Germany. The CGSE may be able to help you with the required documents. Also, you will need to inform International Student Services that you will be studying outside of the United States and discuss how you will remain in valid F-1 status during your studies abroad.
Contacts
Advisors (Please call for an appointment)
Center for Global Study and Engagement
Dickinson College
717-245-1341
global@dickinson.edu
Associate Professor Kamaal Haque, On-Campus Coordinator
Department of German
Dickinson College
P.O. Box 1773
Carlisle, PA 17013-2896
Phone: (717) 245-1283
E-mail: haquek@dickinson.edu
On-Site Administration
The program is supervised jointly by an academic director, Janine Ludwig and a program coordinator, Verena Mertz. The academic director oversees contributing faculty, academic integration between the University of Bremen and the Carlisle campus and the internship component of the program. The program coordinator's responsibilities range from accommodation, student stipends, and orientation coordination to general management of the program's logistics.