This page is the brochure for your selected program. You can view the provided information for this program on this page and click on the available buttons for additional options.
Dickinson in Italy: European Studies
Bologna, Italy
(Outgoing Program)
Featured:
Dates / Deadlines: - unrelated header
Dates / Deadlines:
Tabular data for Dates / Deadlines:

| Term | Year | App Deadline | Decision Date | Start Date | End Date |
| --- | --- | --- | --- | --- | --- |
| Spring | 2022 | 09/24/2021 | 10/29/2021 | TBA | TBA |
Fact Sheet: - unrelated header
Fact Sheet:
#i18n(14)# parameter/value output
Language of Instruction:
English

Glossary entry for program parameter 10006

Class Eligibility:
2-Sophomore, 3-Junior, 4-Senior (fall only)
Minimum GPA:
3.0

Glossary entry for program parameter 10000

Housing Options:
Apartment
Maximum Credits Earned (per semester):
4.5
Academic Area of Study:
Art & Art History, Economics, History, International Business and Management, International Studies, Internships, Italian, Law and Policy, Policy Studies, Political Science, Security Studies

Glossary entry for program parameter 10009

Foreign Language Prerequisite:
none
Program Description:
Program Description:

Overview
Bologna, Italy
The city of Bologna, located in northern Italy, has its own distinct medieval beauty. Centered at the crossroads of Italy, this city of approximately half-a-million people is home to one of the oldest universities in the world. It is just a train ride away from the art of Florence, the fashionable streets of Milan and the historic city of Venice. Bologna, designated an official European "city of culture" in 2000, is also a major center for trade fairs, where businesses and industries showcase everything from the latest developments in technology to the newest cars, perfumes and books.

Find more details below and in the Dickinson in Italy HANDBOOK
The K. Robert Nilsson Center for European Studies and the University of Bologna
The Bologna Program was first offered in 1965 and is Dickinson's oldest education abroad program. That year eight seniors and eight juniors sailed to Italy on the S.S. Castel Felice. The program now has more than 1,000 alumni. The University of Bologna has been in operation for 900 years and has a student population exceeding 80,000 students.

Named in honor of its first Director, the K. Robert Nilsson Center for European Studies in Bologna is the academic home for Dickinson in Italy. Courses at the center are taught by Italian faculty and by the Center's Resident Director, a member of the Dickinson faculty. The curriculum focuses on Europe and includes courses in international relations, history, economics, political science, fine arts, Italian studies, and international business and management. Independent study that focuses on a specific research topic is an option as well.
Eligibility
The expectations to apply for this program are as follows:
3.0 cumulative GPA
A demonstrated academic interest in the core areas of the program.
All students must have a declared major at the time of application.
As a part of the review process students' conduct records and account status are also reviewed. Students and their parents should note that the review process takes all elements of the student's academic record into consideration and that even if a student meets the expected GPA requirements, he or she may not be admitted.
Interviews may be conducted at the discretion of the faculty coordinator and/or CGSE in order to access a candidate's eligibility for this program.
Students who have questions about the review process or their particular candidacy for a program should come into the Center for Global Study and Engagement for advising.

Center staff will not discuss students' applications with parents, friends or any other party without the student's consent and presence in the conversation.

Note: This program has a maximum capacity and usually generates a competitive applicant pool. Students are encouraged to work with their academic advisor and CGSE advisor to determine whether or not this is the best program for them. It is possible that not all eligible students will be admitted. In a competitive applicant pool preference may be given to students who have studied Italian.

Academics
Students engage in interdisciplinary study of the contemporary issues facing Europe and use Italy as a window through which to view Europe at large. They can expect to come away with an understanding of European history and culture and an appreciation of Italy's role within Europe.

Students with a strong command of the Italian language may take courses through direct enrollment at the University of Bologna. Since knowledge of Italian enriches the experience of living in Bologna, all students will take an appropriate level of Italian language as one of their four courses. Students without Italian may be able to direct enroll in business and economics courses taught in English at the University of Bologna.
Upon arrival, students will take part in orientation. All students are required to take an Italian language course at their appropriate level, which will count as one of their four courses taken during the semester. Italian 101 will be taught at the Center while students in intermediate Italian will go to SAIS-Hopkins and students with advanced Italian will go to the University of Bologna for their language courses. Students typically enroll in four courses each semester. Semester-only students will receive a total of four credits. Academic year students will enroll in another four courses during the spring semester, and receive a total of eight credits.

During the spring semester, academic-year students may conduct internships.

During the fall and spring semesters, a small number of exceptionally well-qualified students (both semester-only and academic year) may be granted the opportunity to enroll in graduate-level courses at the Johns Hopkins School of Advanced International Studies on a space-available basis.

What classes are available?

The following section lists examples of courses that have been offered in the past. Please keep in mind that course offerings change each semester. Students will choose their courses upon arrival in Bologna.

Italian 101- Beginning Italian
POSC/INST 290/ Security Studies Certificate: European Security
POSC 290/ INST 290: Major Issues in International Politics: Managing Resources
POSC 290/INST 290/Security Studies Certificate: Transatlantic Relations
POSC 290/ INST 290/ Security Studies Certificate: The Politics of Migration in the European Union
HIST 232: Modern Italy
ARTH 205: Renaissance and Baroque Art of Bologna
INBM 300: Fundamentals of Business Operations Management
INBM 300/ECON 214: International Trade
+graduate courses at Johns Hopkins SAIS for up to two students each semester who meet the eligibility requirements
+advanced, intensive courses in at UniBo (taught in English)
+UniBo courses in Italian for students with an advanced level of Italian language
Course Descriptions:

ITAL 101: Beginning Italian-
An introduction to Italian language and culture. No previous knowledge of Italian is required. Students who are already fluent in other Romance languages may ask to be placed in separate sections where they will have an opportunity to advance more rapidly. Every student must take an Italian language course while in Bologna.
INST 290/POSC 290/Security Studies Certificate: Transatlantic Relations-
This course will examine the post-World War II history and the current condition of the relationship between the United States and Europe. It will focus on the institutional dimension of this relationship and on its evolution within the framework of the Atlantic community. It will also consider the economic, strategic, political and cultural dimensions of US-European relations and how they have changed over the years. Particular attention will be paid to specific transitions (i.e.: the Cold War, the 1970s, the end of the Cold War, 9/11) and to the frequent controversies within the Atlantic alliance and between the United States and some of its European allies.
POSC 290/INST 290/Security Studies Certificate: The Politics of Migration in the European Union
The objective of this course is to understand how the European Union (EU) deals with the many-faceted phenomenon of migration and, hence, which policies have been adopted to reap its opportunities and to manage its potential challenges. Starting from basic concepts this course goes through the economic, social, political and security aspects of migration and focuses on the approach undertaken by the European Union and by selected Member-States. Also, the course investigates how migration is discussed by the political élites and by the media and how it is received by the public opinion with a glance at integration approaches, multiculturalism challenges and the perceived links with state, societal and human security.
HIST 232: Modern Italy-
A survey of social, cultural, and political developments from the beginnings of the Risorgimento in the 18th century to the post-war period, including the effects of the Napoleonic period, the unification of Italy, World War I, Fascism, World War II, and the Cold War.
ARTH 205: Renaissance and Baroque Art of Bologna-
This course will offer an introduction to the major visual traditions in Italy from the 15th to the 17th century, with a particular attention on Bolognese art. It will examine the development of art and architecture in Italy, and the effects that the Italian society, economy and politics had on the production of art during these centuries. Works of art will be studied through methods that will show their intellectual, religious and social connections to a larger historical context. A part of the course will consist of visits that will allow a direct observation of paintings. Some lessons will be held in churches or museums in order to understand better the context for which works of art were
designed.
INBM 300 Fundamentals of Business Operations Management-
This course has been designed for students who wish to learn and understand more about the role that operations management plays in manufacturing and service organizations. The syllabus covers some of the basic approaches used in operations management - such as: capacity and materials planning; the relationship between process flow, layout, technology and organizational choices; demand management, aggregate planning and inventory management. It then discusses the importance of improving quality and productivity along with a few of the most popular methods to drive improvement in organizations.
Qualified students may take additional courses at the University of Bologna and Johns Hopkins University Graduate Center. Most of the courses offered at the University of Bologna are taught in the Italian language although there are courses in English. Please find more information in the sections below.
Independent studies will be limited to one per year per student depending on students' needs and availability of instructors.
Internship placement is restricted to full year students. Please note that due to the competitiveness for internship placements, there is no guarantee that everyone will be able to participate in an internship (as part of the Intercultural Seminar). These will be based on the student's command of Italian, academic performance, and a personal interview.
Courses at the Johns Hopkins School:
Students interested in these classes will take an online placement test upon arrival. Italian majors and minors need to meet with their Italian advisors to discuss how the classes will be counted.
A list of courses at The Johns Hopkins School of Advanced International Studies (SAIS) will be available in Bologna during registration for the second semester. Enrollment will be competitive and is open only to academic year students. There are only four student openings, and acceptances will depend on academic performance and an interview. We cannot promise admission into any Johns Hopkins program course in advance.
No more than two students each semester may be eligible to take graduate classes at SAIS. A GPA of 3.5 or more is required. Students will have to talk to the Bologna program director and do an interview with SAIS faculty upon arriving in Bologna.
Courses at the University of Bologna:
Italian Studies majors or students with advanced Italian language fluency may take courses in Italian at the University of Bologna at http://www.unibo.it/
Students have taken courses at UniBo in disciplines ranging from Sociology, Religion, Philosophy, American Studies, Business and Management and more. Students interested in taking courses at the University of Bologna need to talk to their advisors to see how these courses may count toward their major. The staff in Bologna will do their best to place students in UniBo courses, but they may conflict with the academic calendar of the Dickinson Center in Bologna.
Taking a course at the University of Bologna requires a serious commitment. The UniBo calendar differs from that of the Dickinson program, and classes may be in session while the Dickinson program is on break or over U.S. holidays, such as Thanksgiving. Students are expected to attend all UniBo classes during these times. Students may also have to stay longer into June to complete exams or other course requirements. Most classes at UniBo are three times a week for two hours, which can create scheduling conflicts with classes offered at the Dickinson Center. It can be difficult to find a UniBo class that fits a student's interest and schedule, so students should not assume that they will definitely attend one while in Bologna.
That said, taking a UniBo course is highly recommended for students with adequate Italian fluency.
How is instruction different?
Teaching methods combine the best of the Italian and American educational systems. Due to the diversity of the faculty, there are various ways in which they teach (some straight lecture) and in the way they grade and evaluate student work. This is all part of the cultural and academic learning experience that students will encounter here in Bologna. Students in the program are expected to carry a full course load, which in Bologna means 4 credits (courses) each semester to be taken while classes are in session, and to regularly attend those classes for which credit is sought. If special circumstances warrant an absence for reasons other than illness, students should notify the Resident Director and/or the professor of the circumstances.
When will I register for classes?
Students will choose their courses upon arrival in Bologna.
Will the courses count towards my major?
Check with your major advisor before choosing courses.
Will they count in my GPA?
Dickinson Center: The courses offered at the Dickinson Center are listed on a student's transcript with titles and grades and will be calculated in the Dickinson GPA. If a course is cross-listed, it is up to the student to decide what credit it will count for on their transcript.

John Hopkins: Courses taken at Johns Hopkins (SAIS) will be listed on the Dickinson transcript with titles and grades. The grade, however, will not be used in calculating the GPA.

University of Bologna: Courses taken at the University of Bologna are also listed on the Dickinson transcript with titles and grades, but will not be calculated into a student's GPA. For full details and the official grade conversion scale in effect for University of Bologna courses, see Appendix II at the end of the handbook. Coursework taken in cooperating institutions abroad is transferable provided grades equivalent to a Dickinson "C" (2.00 on a 4.00 scale) or better have been earned. To find out more information about the University of Bologna, please visit http://www.unibo.it/.
What is a full course load and How will my courses transfer?
Students must take a normal full load as defined by their program. Students may not under-enroll under any circumstances. If a student registers for more than the maximum courses allowed without permission from the Resident Director, their academic advisor at Dickinson, and the Center for Global Study and Engagement, the course credit will not transfer. Students will also be responsible for any additional fees for doing this.

Each Dickinson course in Bologna earns one course credit (equal to four (4) semester hours). The normal course load during each semester is four (4) courses, for a total of eight (8) courses for the year.

Only liberal arts classes will qualify for transfer credit.

Generally speaking, courses must have an equivalent at Dickinson. Exceptions include classes that focus on the culture and/or history of the country in which the student is studying.

Transfer credit will not be awarded for coursework that duplicates what a student has already completed at Dickinson.

Transfer credit is awarded only for classes in which a student earns a grade of "C" or better. However, all courses and grades will appear on the transcript, along with the corresponding grades.
Is there a language requirement?
There is no requirement to speak Italian to participate in the program, but all students enrolled in the program will take one class in the Italian language at their appropriate level. With the exception of courses taught in English, every aspect of the program is designed to facilitate the interaction of formal study with the knowledge of Italian society and language, which comes through cultural immersion. You will find that formal classroom activities are supplemented and reinforced by immersion in Italian life and culture, which enhances understanding of the values, beliefs, and attitudes of Italian culture.
Academic Excursions
Does this program include any group travel once I'm in country?
Participants in this program typically take part in day excursions to numerous historic and cultural sites around Bologna as components of orientation and some Center courses. There are two overnight group trips taken each semester to different locations in Italy. Each trip lasts for two days and one night, and the trip destinations vary from year to year.
What expenses are covered during excursions?
Students' lodging costs will be covered during overnight excursions, and at least one group meal is also included. Group transportation to and from the excursion site, as well as group travel and entrance tickets for all group activities will be covered. Students will not be reimbursed for personal travel and personal activities during an academic excursion.
When will I find out where and when we're travelling?
Specific dates and locations for the multi-day excursions will be announced at the beginning of the each semester. Site visits in and around Bologna will be organized and announced by the professor during throughout the semester.
Can a friend or family member who is not on the program also travel with us?
No, unfortunately, for logistical and academic reasons non program participants are not able to join the program for excursions.
Are excursions optional?
Some of these excursions are linked to your academic program and, therefore, could be mandatory. In some cases, content delivered through the excursion will be relevant to a student's studies and assessment. All students should plan to participate in all excursions. If a student misses an excursion or a planned departure for a trip, these arrangements and costs will not be made up for the student. It is each student's responsibility to be where they need to be in order to participate fully in each academic excursion.
Dates and Flights
When is orientation?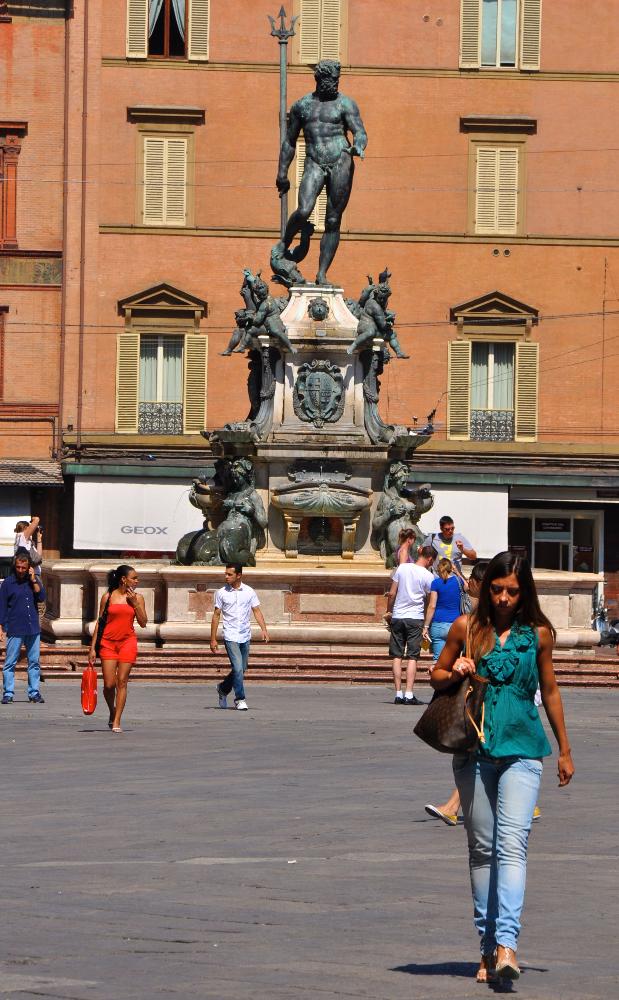 In addition to the mandatory pre-departure orientation on campus, there will be an on-site orientation for this program. In Bologna, students' on-site orientation occurs from the moment you arrive in the city: staff meet you at the airport and arrange for your transfer to your housing. Orientation meetings continue for the first week in Bologna.
During the orientation you will meet and work with the on-site Directors, Professor Russell Bova and Professor Clarissa Pagni, as well as our Program Associate and Bologna program alumna, Ellen Laird. Orientation events include a tour of the K. Robert Nilsson Center and city, an overview of Bologna's public transportation system, course registration meetings, and an overview of your health and safety while studying in Italy. Intensive Italian language instruction also begins.
What are the program dates?
Dickinson in Italy ACADEMIC CALENDAR

Students on this program are given an arrival window when they are asked to arrive in Bologna (BLQ). A group flight option is frequently offered.
Is there a group flight?
Unless otherwise stated, the CGSE does not arrange group flights. Students are responsible for booking their own travel to/from Italy. Accepted students will be given a timeframe in which they should plan to arrive and depart. Students should not purchase their flights until instructed to do so by the CGSE and/or on-site staff. We encourage students to carefully review the change fees and cancellation policies before booking a flight.

The CGSE does not endorse any particular travel agent or booking website but does provide additional guidance about booking flights on the CGSE website.
What if my family wants to visit me?
If you have family or friends who are planning to visit you, please do not make travel plans until you arrive at the program and become familiar with your class schedule and program excursions. It is not acceptable to skip class for personal travel.
When will I have time to travel?
You will travel in and around Bologna and parts of northern Italy on academic excursions. Exact dates for the excursions will be announced once the semester begins. Many students also travel on their own during breaks and major Italian holidays when classes are not in session.
Can I arrive early or stay after the program ends?
Students may not arrive early or stay late without the written approval of the on-site Directors. Please note that if you choose to arrive early or stay late, you will not be able to stay in your apartment. You should also consider your visa validity when you make the decision of whether or not you may arrive early or stay late. No student may arrive late for the start of the program.
Health
How do I access health care in Bologna?
Good medical care is available in Bologna. An English-speaking physician is available for program students and program staff will help you with arranging initial appointments. You will be responsible for paying the office fee and submitting receipts to your insurance company for reimbursement.
How much will it cost to go the doctor?
Approximately €25 per visit.

Dickinson also provides students with medical and travel security assistance through International SOS. Please visit our Health and Insurance Abroad page for more information.
Finances
How much does the program cost?
The program budget sheet can be found at the top of this page to the left of the 'Apply Now' button.
What is included in the program fee?
The fee includes tuition, room, board, academic excursions and emergency insurance. Airfare and visa fees are not included. The budget sheet also lists additional fees students should anticipate.
Is my flight included?
The flight is not included but the cost is taken into consideration when your financial aid need is calculated for your semester abroad.
How much extra money do I need to bring?
This depends on you. We encourage students to not travel every weekend, but to really engage their host city in meaningful ways during their semester abroad. An estimate of personal expenses is included on the budget sheet, but it really depends on you and your spending habits.
Will I receive a stipend?
Periodically (normally every two weeks), the Resident Director will distribute the food stipend through the Banca Popolare dell'Emilia Romagna. You will be able to pick up this money directly from the bank. You will also have the opportunity to open up a bank account at the Banca Popolare dell' Emilia Romagna if you wish to do so. In this case, your food stipend money would be deposited directly into your account. You are responsible for budgeting food money. The central food market is where many students shop for fresh fruit, cheese, meat, and bread. While shopping here is fun, it is cheaper to buy larger groceries at a supermarket.
How will I access my money in Bologna?
ATMs connected to international networks such as Cirrus and Plus allow you to retrieve cash in the local currency directly from your bank account in the United States. Inquire at your bank to be sure that your ATM card will allow cash withdrawals abroad. ATMs overseas will accept only cards that access checking accounts in your name. Some students also choose to open a bank account with the Banca Popolare dell'Emilia-Romagna.
Can I work part time?
College Work Study positions entailing 4-8 hours a work each week are available, but not guaranteed, in Bologna. You must indicate that you would like to be considered for CWS employment in Bologna; the Financial Aid Office will notify you if CWS will be part of your financial aid package. CWS payments are made monthly; earnings will be deposited directly into each student's designated U.S. bank account.
Housing
Where will I live?
Students live in apartments scattered across the historic center of Bologna. Distance to the Dickinson Center will vary, but is typically no more than a 20-25 minute walk and often much less.
Who will I live with?
The Dickinson Center staff determines apartment assignments. Student roommate preferences are solicited and are taken into account, but requests cannot be guaranteed. Depending on size, apartments will typically house 3-5 students.
How are the apartments configured?
Apartments configurations vary, but all include a kitchen, a bath, and a sleeping and study space. There are no laundry facilities in the apartments.
Is there a meal plan?
No, students in Bologna do their own cooking. A variety of options for food shopping are found throughout the historic center of the city. They include all-purpose markets, fruit and vegetable stands, specialty shops for buying things like bread and cheese, and small convenience stores. Part of the fun of living in Bologna is in discovering your favorite shops and cooking your own food.
What if I don't get along with my roommates?
Your Resident Director and program staff are on-site to help you with any housing concerns.
Will I have internet access in my apartment?
Yes, all apartments are equipped with wireless internet. Keep in mind that Italy does not have the same network infrastructure as the U.S. and internet service will not be as fast or reliable as the internet you are used to (i.e. streaming music, videos, etc.). Wireless internet is also available at the Nilsson Center during Center hours (8:30 a.m. to 4:30 p.m. Monday through Friday).
Internships/Research
Are internships available?
Qualified students may complete internships in Bologna. Internship placements are not guaranteed and students with strong Italian language skills will have a greater chance of being placed at an internship site. Students have gained valuable experience in a variety of organizations including museums, a bookstore, elementary and middle schools, and a local community center.
Can I earn credit for an internship?
Students who wish to complete an internship for academic credit must be academic year students and enroll in the Intercultural Seminar. Semester students can earn a transcript notation on their Dickinson transcript through the Career Center. Please visit the Internship Notation Program page for more information.
Can I conduct research while abroad?
Students can conduct research abroad under the guidance of a Dickinson adviser. The Student International Research Fund (SIRF) was established to help students with extra travel costs associated with independent research projects. Students are encouraged to present their research at the International Research Symposium when they return to campus. For more information, please visit our Scholarships for Global Study page.
Visas
What is a visa?
A visa is a document, normally affixed within your passport, which allows you to enter the country and stay for the duration of your program. The requirements for the visa and visa process are controlled by the government of the country you are entering, are non-negotiable, and can change regularly. If you arrive without the proper visa, you will be sent home by immigration officers at your own expense.
Do I need a visa?
Dickinson in Italy VISA GUIDELINES

A student visa is required to participate in the Bologna program. If you do not hold a US passport, you should consult with the Italian Embassy in your country of citizenship for the student visa requirements. Obtaining a student visa is the student's responsibility. We will review the guidelines for obtaining a student visa at the pre-departure orientation.
We have produced visa guidelines to provide you with an overview of what you will need to do to obtain a student visa. Please note: this is only a tool to help you get started! It is not a substitute for consulting with the Italian consulate that has jurisdiction over your state of home residence. Make sure you are familiar with the most up-to-date regulations by visiting their website frequently.

Also, you need to ensure that your passport is valid for 6 months after the program end date.
How do I get a visa?
Currently, the CGSE requires all Dickinson in Italy program participants to apply for an Italian visa through our visa service provider, Raffaele Cimina. Students will need to in submit previously-gathered documents that are required for the visa. Please consult the Visa Guidelines for your country of study.
Do I have to go to the consulate/embassy?
No. Currently, the CGSE requires all Dickinson in Italy program participants to apply for an Italian visa through our visa service provider, Raffaele Cimina. You will submit previously-gathered documents that are required for the visa to the CGSE, and we will hand them off to Raffaele to take to the Italian Consulate in Philadelphia.
How much does a visa cost?
The visa fees total approximately $120 (cost subject to change).
How long does it take to receive my visa?
At the Philadelphia Consulate, it can take over 4 weeks to obtain a student visa. You will need to forfeit your passport to the consulate in order to obtain your visa; do not make plans to travel internationally during this time.
If I'm not a U.S. passport holder, are there any additional requirements?
Yes, you will need to do your own research on visa requirements for citizens of your home country to study in Italy. The CGSE may be able to help you with the required documents. Also, you will need to inform International Student Services that you will be studying outside of the United States and discuss how you will remain in valid F-1 status during your studies abroad.
May I use a visa service to get a visa?
Yes. Currently, the CGSE requires all Dickinson in Italy program participants to apply for an Italian visa through our visa service provider, Raffaele Cimina.
Will the Center help me with the visa?
Yes, we provide you with visa guidelines, as well as various required documents needed for the visa process.
Student Perspective
Global Ambassadors are returning study abroad students who serve as peer advisors for their program. Please feel free to contact them for a global student perspective.



Contacts
Center for Global Study and Engagement
Dickinson College
717-245-1341
global@dickinson.edu
On-Site Administration
Assoc. Prof. Ed Webb, Resident Director
Political Science and International Studies
K. Robert Nilsson Center for European Studies
Via Marsala 2
40126 Bologna
E-mail: webbe@dickinson.edu
Ellen Laird, Administrative Director and Dickinson alumna
E-mail: lairde@dickinson.edu

Elena Giulia Dall'Acqua, Program Associate
E-mail: dallacqe@dickinson.edu

The Resident Director plans and leads the academic program, advises students and teaches at the Nilsson Center. The Resident Director is assisted by Associate Director and Dickinson alumna, Ellen Laird, and the Bologna Program Associate, Elena Giulia Dall'Acqua
On-Campus Contact

Associate Professor Ed Webb
Political Science and International Studies
Dickinson College
P.O. Box 1773
Carlisle, PA 17013-2896
Phone: 717-245-1550
webbe@dickinson.edu