This page is the brochure for your selected program. You can view the provided information for this program on this page and click on the available buttons for additional options.
Oxford, United Kingdom
(Outgoing Program)
Featured:
Program Terms:
Program Terms:
Academic Year

Restrictions:
Dickinson applicants only
Budget Sheets
Academic Year

Dates / Deadlines: - unrelated header
Dates / Deadlines:
There are currently no active application cycles for this program.
Fact Sheet: - unrelated header
Fact Sheet:
#i18n(14)# parameter/value output

| | |
| --- | --- |
| Academic Area of Study: | Classical Studies, Economics, English, History, Philosophy, Political Science |
Program Description:
Program Description:



**For students applying to the Mansfield Oxford program for the 2021-2022 academic year, there will be a required Writing Workshop early in the spring 2022 semester. More details will be shared once the details are confirmed. The focus of the session will be on revising/writing an effective personal essay for Oxford. Please plan to bring a hard rough draft of your personal statement. Guidance for the personal statement can be found in the Dickinson application.

**Students interested in applying to the Oxford program should begin their application before the winter break, as important information will be communicated to students with open applications.

**Faculty writing letters of recommendation for students applying to the Oxford program should consult the guidance notes, which are provided in the application.

Overview
Mansfield College at University of Oxford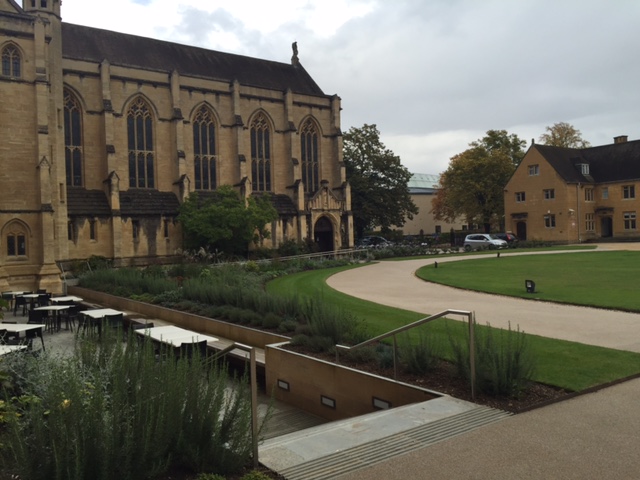 Mansfield College's Visiting Student Programme offers suitably qualified students the opportunity to come to Oxford as full members of the College and Registered Visiting Students of the University of Oxford. Normally, Mansfield admits approximately 30- 35 visiting students per year. Visiting students typically come from the Ivy League, the most highly selective liberal arts colleges, and a few select public universities.

Visiting students study arts, humanities, and social science subjects for one year. Visiting students have access to all college facilities and are members of the JCR (Junior Common Room - the undergraduate student body). As Registered Visiting Students of the University, they also have access to a wide range of University facilities, including the Bodleian Library, Faculty (subject) libraries, the Oxford University Computing Services, and the great wealth of lectures organized by the University throughout the academic year.The Visiting Student Programme at Mansfield aims to offer students as close an experience as possible to that of the regular degree-seeking students at Oxford.

At the heart of the Oxford teaching system is the tutorial, an hour-long meeting between one to three students and their tutor. Compared to systems where the main vehicle of teaching is the lecture or seminar, the tutorial system places great emphasis upon the independent study skills of the student. In general, students produce one essay (or 'paper') per tutorial which they either hand in to the tutor for marking or read out. The reading of the tutorial essay will lead into a general discussion of the subject matter being explored. Essays are not simply summaries of what a student has read in preparation for a tutorial, but critical engagements with a topic. During the 8 weeks of term students also have access to University lectures, which they attend at the recommendation of their tutors or out of personal interest. Like regular undergraduate students, visiting students are taught by Fellows and Lecturers of Mansfield and other Colleges within the University.

Visiting students at Mansfield College can apply to study arts, humanities, and social science subjects in which Mansfield accepts regular degree students (see list below). It may be possible to study tutorials in other subjects within this broad area: in the past students have studied subjects including art history, anthropology, oriental studies, and development studies. Visiting students at Mansfield are permitted the flexibility to take tutorials in subjects other than their major; however, the tutorial system is not suitable for the study of subjects at an introductory level. Visiting students will be expected to select tutorial options that build on knowledge they have already acquired at their home institutions.

For more information, please visit the Mansfield College, Oxford Visiting Student Programme website.

Note: You must apply and be accepted through Dickinson before finishing and submitting a host institution application. Host institutions make all final admissions decisions.
Eligibility
Admission to Mansfield College's Visiting Students Programme is extremely competitive. This process is done through a preliminary invitation-only protocol that involves a pre-screening of sophomores who may be eligible candidates. Students may also self-nominate in the fall of their sophomore year by speaking to the faculty coordinator. Participants come from many of the very best U.S. colleges and universities. Participants in the Visiting Programme have cumulative GPAs at or above 3.7. In addition, the tutorial system places great emphasis upon the independent study skills of the student, and successful participants will need to be able to manage their course of study to a much greater degree than is typically required of undergraduates in the American system. Finally, while the academic programme is intended to challenge the very best students, visiting students are expected to be fully engaged in the social and intellectual life of the University outside of their tutorials.

Certain departments on campus, in consultation with Mansfield College, have formulated academic career paths in order to help students become successful candidates for the Oxford program. These pathways are expected to be completed by the end of a student's sophomore year. However, it should be noted that following the academic path does not guarantee a student a place in the program. Additionally, admission to the program is not limited to the following majors. If your major's eligibility expectations are not listed below, please speak with your Department chair, Academic Advisor and the On-Campus Coordinator for the Oxford Program.

English: ENG 220 + (3-5) 300 Level Courses

Economics/Quantitative Economics: ECON 111 + 112; MATH 170, 121 or 225; (2) core courses (268, 278, 288, 298). In addition, Economics students should take at least one writing-intensive course.

History: (3-5) major courses (including 204 and (2) 300-level courses; one of these courses must be a writing-intensive course.)

Students who have questions about the review process or their particular candidacy for a program should come into the Center for Global Study and Engagement for advising. Center staff will not discuss students' applications with parents, friends or any other party without the student's consent and presence in the conversation.
Application Deadline
Invited candidates must apply by 12:00PM EST February 1st, 2022. Hour-long interviews with finalists will be arranged for the week of February 4th or shortly thereafter. Because we will select only a few candidates, applicants will be encouraged to consider another education-abroad program as a back-up option. We intend to select our nominees soon after the interview process.
Academics
How is instruction different?
It may well come as a surprise to you how different the academic practices at Oxford are from what you are used to at Dickinson College. This includes teaching practices, classroom expectations, student-teacher relationships, exam schedules, assessments, subject matters, and more. Most students adjust positively to the different academic situation and take advantage of the opportunity to learn from a new perspective. For example, most Oxford courses require lots of independent reading.
Typically, the most difficult academic adjustments for American students are:
Learning to manage time: There is much more out of class "free" time at Oxford, and assignments (course work) and exams are fewer and less frequent.
Taking responsibility for planning all your work for each course. Schedule regular study time; do not let the work pile up. Talk with tutors, faculty, and/or your Oxford academic adviser early if you sense any problems.
What classes are available?
Areas of study available to visiting students:

Classics
Economics
English
History
Management
Oriental Studies (Middle East Studies)
Philosophy
Politics
Theology and Religion

Available courses can be viewed online, here: https://www.mansfield.ox.ac.uk/subjects-vsp
When will I register for classes?
Late spring prior to departure.
Will the courses count towards my major?
Mansfield itself does not award credit: hence prospective visiting students should consult with advisers at their home institution before selecting tutorial options to be taken at Oxford, to ensure that their Oxford studies will be acceptable for the purposes of credit transfer.
Will they count in my GPA?
Grades will appear on your transcript, but do not count towards the GPA.
Is there a language requirement?
No, the primary language spoken is English.
How will my courses transfer?
Only liberal arts classes will qualify for transfer credit. If in doubt, consult the on-campus director or resident director as appropriate. Generally speaking, courses must have an equivalent at Dickinson. Exceptions include classes that focus on the culture and/or history of the country in which the student is studying. Transfer credit will not be awarded for coursework that duplicates what a student has already completed at Dickinson.
Academic Excursions
Does this program include group travel once I'm in the country?
Activities and excursions will be arranged by Mansfield College. Students are encouraged to use the cultural allowance credited to their Dickinson student account each semester to participate in these activities or to plan independent travel on their own.
Dates and Flights
Is there an orientation?
Yes, the start of the Visiting Student Orientation Programme is in early October.
What are the program dates?
Dickinson at Oxford ACADEMIC CALENDAR

The Visiting Student Programme at Mansfield College, Oxford is open to yearlong students only. Students must spend all three terms (Michaelmas, Hilary, and Trinity) in residence at Mansfield.

Program dates are as follows:

Late September: Arrival at Mansfield College and move into accommodation.

Mid October - Early December: Michaelmas Term Dates.

Mid January - Mid March: Hilary Term Dates.

Late April - Late June: Trinity Term Dates.

In each term, visiting students pursue one primary subject (normally 8 tutorials) and one secondary subject (normally 4 tutorials). For the academic year, Dickinson students will pursue three primary subject tutorials (one per each of the three Oxford terms) and three secondary subject tutorials (again, one per each Oxford term) for a total of eight Dickinson credits.
Is there a group flight?
Unless otherwise stated, the CGSE does not arrange group flights. Students are responsible for booking their own travel to/from England. Accepted students will be given a timeframe in which they should plan to arrive and depart. Students should not purchase their flights until instructed to do so by the CGSE and/or on-site staff. We encourage students to carefully review the change fees and cancellation policies before booking a flight.

The CGSE does not endorse any particular travel agent or booking website but does provide additional guidance about booking flights on the CGSE website.
What if my family wants to visit me?
Great! But, please do not make travel plans until you arrive at the program and become familiar with your class schedule and program excursions. It is not acceptable to skip class for personal travel.
When will I have time to travel?
You will have time for personal travel during academic breaks from the university—for example, during winter and spring vacations. Mansfield students must abide by UK and Oxford restrictions on travel during the Covid emergency. This may restrict access to travel within and/or outside of the UK.
Can I arrive early or stay after the program ends?
Students may not arrive early or stay late at the University of Oxford. However, students may choose to travel on their own either before or after the program. You should consider your visa validity when you make the decision of whether or not you may arrive early or stay late. No student may arrive late for the start of the program.
Finances
How much does the program cost?
Students pay Dickinson comprehensive fees to attend this program. The cost includes tuition, room, board, student Union card, a bike credit, and a cultural allowance. Students will be responsible for submitting a receipt to the CGSE to be reimbursed for the cost of the bike. The cultural allowance will be deducted from the Dickinson comprehensive fee by Student Accounts each semester. Airfare and visas are not included in this cost.

The program budget sheet can be found at the top of the page to the left of the 'Apply Now' button.
How much extra money do I need to bring?
This depends on you. We encourage students to not travel every weekend, but to really engage their host city in meaningful ways during their semester abroad. An estimate of personal expenses is included on the budget sheet, but it really depends on you and your spending habits.

As per the budget sheet, students should expect to spend around $800 during the year on additional cultural activities, many of which are sponsored by the university.
Will I receive a stipend?
No.
How will I access my money in Oxford?
If you have an ATM card that draws on a U.S. checking account in your name (NOT a savings account) and shows a CIRRUS symbol, you should be able access it throughout Europe. Students should speak with their bank about their travel plans and to make sure they can use the ATM card abroad. It's not necessary to open up a British bank account, but some students find it helpful. These accounts are normally free to set-up and make withdrawing money around England, and often, Europe, much easier, since debit cards drawing on these accounts can be used almost everywhere. In order to open a bank account at a nearby bank, students should bring their passport, a letter from Mansfield College, and proof of address.
Can I work part time?
You are permitted to work for pay for up to 10 hours per week if you are on a Tier 4 Student Visa. You will first need a Temporary National Insurance Number, which can be acquired through the International Students Office. On-campus employment is limited; however, there are many cafés, shops, and pubs that generally employ students off-campus and in the city.
Should I buy an international cell plan or purchase a mobile phone in the UK?
Most students purchase UK cell phones with a pay-as-you-go plan.
Are there scholarships available for this program?
Dickinson scholarships and aid applies to all Dickinson and Dickinson partner programs; Dickinson does not offer additional scholarships for study abroad. For more information, please visit our Scholarships for Global Study page.
Health
How do I access health care in Oxford?
Academic year international students are entitled to free medical care under the National Health Service (NHS); students will need to pay for medicine prescribed by these doctors. During the first week of the school year, students are able to register with the University Health Centre where most students go to receive medical care.

How much will it cost to go the University Medical Centre?
Based on student feedback, you should plan to pay about 20GBP for a visit to the medical center for a routine medical issue.

Dickinson also provides students with medical and travel security assistance through International SOS. Please visit our Health and Insurance Abroad page for more information.

Housing
Where will I live?
Visiting students live in College accommodation. In order that Visiting Students may have a fuller experience of living in the UK, the College tries - as far as is practicable - to integrate their housing with that of other Mansfield students. All students have their own study-bedroom, and share kitchen and bathroom facilities. They also have access to the College Dining Hall for meals during term time together with all other College facilities. Visiting Students do not have to move out of their accommodation over the Easter and Christmas vacations, and Oxford can provide an excellent base for exploring the rest of the UK and Europe.
Internships/Research
Are internships available?
Internships are not generally available; however, many students have undertaken independent research projects. Students are permitted to work; see finances for more information.
Can I conduct research while abroad?
Students can conduct research abroad under the guidance of a Dickinson advisor. The Student International Research Fund (SIRF) was established to help students with extra travel costs associated with independent research projects. Students are encouraged to present their research at the International Research Symposium when they return to campus.
Visas
What is a visa?
A visa is a document, normally affixed within your passport, which allows you to enter the country and stay for the duration of your program. The requirements for the visa and visa process are controlled by the government of the country you are entering, are non-negotiable, and can change regularly. If you arrive without the proper visa, you will be sent home by immigration officers at your own expense.
Do I need a visa?
Dickinson at Oxford VISA GUIDELINES

A Tier 4 student visa is required to participate in the Oxford program. If you do not hold a U.S. passport, you should consult with the British embassy in your country of citizenship for the Tier 4 student visa requirements. Academic year participants are required to obtain a Tier 4 student visa.
How do I get a visa?
Academic year students will need to complete an online application, pay any fees associated with the visa, make an appointment to obtain their biometric data (e.g.: fingerprints), and then submit previously-gathered documents that are required for the Tier 4 Visa via mail to the Consulate. Please consult the Visa Guidelines for your country of study.
Do I have to go to the Consulate/Embassy?
No, students do not need to go to the British Consulate offices. Academic year students will have to complete an online application, pay any fees associated with the visa, make an appointment to obtain their biometric data, and submit previously gathered documents via mail to the Consulate.
How much does a visa cost?
The visa fee is currently set at £322; however this amount is subject to change. Be sure to check the consulate's website for any fee change before you submit your visa paperwork.
How long does it take to receive my visa?
It can take at least 3 weeks to obtain a Tier 4 student visa once your documents have been received by the British Consulate. You will need to relinquish your passport during this time and should not plan to do any international travel.
If I'm not a U.S. passport holder, are there any additional requirements?
Yes, you will need to do your own research on visa requirements for citizens of your home country to study in the UK. The CGSE may be able to help you with the required documents. Also, you will need to inform International Student Services that you will be studying outside of the United States and discuss how you will remain in valid F-1 status during your studies abroad.
Student Perspective
Global Ambassadors
Global Ambassadors are returning study abroad students who serve as peer advisers for their program. Please feel free to contact them for a global student perspective.



Contacts
For more information, contact CGSE.
For more information, contact:

Professor Wendy Moffat
Department of English
Dickinson College
P.O. Box 1773
Carlisle, PA 17013
Email: moffat@dickinson.edu