This page is the brochure for your selected program. You can view the provided information for this program on this page and click on the available buttons for additional options.
Field School in Classical Archaeology: Mycenae
Mycenae, Greece
(Outgoing Program)
Featured:
Term

Year

App Deadline

Decision Date

Start Date

End Date

Summer

2017

04/15/2017 **

Rolling Admission

05/27/2017

06/26/2017

NOTE: NOTE: The start date is the day students are expected to arrive in Athens (students departing from the U.S. will depart the day before to arrive on the start date). **Original deadline date for applications was February 1st. If applying after February 1st and you are a Dickinson student, you will not be eligible to request summer financial aid.


** Indicates rolling admission application process. Applicants will be immediately notified of acceptance into this program and be able to complete post-decision materials prior to the term's application deadline.

Field School in Classical Archaeology: Mycenae (Study/Research Season)
Mycenae, Greece
The Dickinson Excavation Project and Archaeological Survey (D.E.P.A.S) at Mycenae provides students with experience at one of the most important ancient sites in the world. Students will gain hands-on skills in archaeological fieldwork and study classical culture through museum and site visits. The program begins during the spring semester, during which orientation sessions will be scheduled and advance readings assigned.
During excavation, digging is conducted Monday through Friday from the early morning to early afternoon. In the late afternoon, the excavation staff is briefed by each trench assistant or master on the results and finds of the day, and the program director assigns tasks and gives detailed directions for the following day. In exceptional cases, weekends may be used for dig preparation. Excavation is hard, physical work, requiring high-level concentration and involving multiple tasks, including supervising the workmen, keeping a detailed daily journal, describing, measuring, recording, labeling, drawing, and photographing the archaeological finds and contexts, and transporting, storing and cataloguing the finds. Students must be well-prepared and trained for this type of work.
During the study/research periods, museum research, archaeological survey and other related tasks begin in the morning and end in the afternoon. Organized excursions and field trips will be scheduled on weekends or on days of inclement weather that restrict digging/surveying.
The archaeological site of Mycenae is located in the Prefecture of Argolid, Peloponnesos, at a distance of only 2 kilometers from the modern village of Mycenae , 12 kilometers from the city of Argos (the prefecture capital), 22 kilometers from the shores of Nauplion, and approximately 140 kilometers from the Greek capital Athens and the international airport "Eleftherios Venizelos.
The campaign of 2017 will focus on lab work (study season), geophysical and archaeological survey, and, possibly, limited fieldwork (clearing operations, test pits, stratigraphic sections).

Eligibility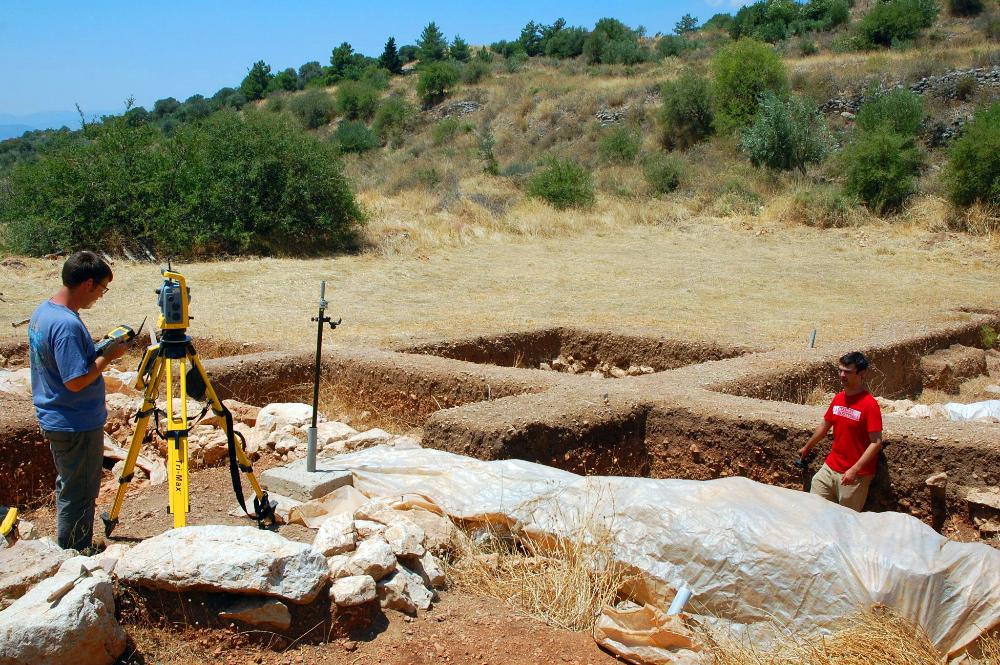 Prerequisites: Eligible students who wish to participate must have fulfilled the following academic requirements prior to the commencement of the program, including introductory courses (or the equivalent) offered annually at Dickinson: Greek Art & Archaeology (ARCH-120) or Prehistoric Aegean Art and Archaeology (ARCH- 210), or similar coursework in ancient Greek art and archaeology Intensive Modern Greek I (MGRE-107) Field Archaeology (ARCH-301) or previous field experience (desirable)
Certain eligibility criteria may be waived and equivalency of prerequisites is determined at the discretion of the program director.
As a part of the review process students' conduct records and account status are also reviewed. Students and their parents should note that the review process takes all elements of the student's academic record into consideration and that even if a student has the required minimum GPA and language pre-requisites, he or she may not be admitted.

Students who have questions about the review process or their particular candidacy for a program should come into the Center for Global Study and Engagement for advising.

Center staff will not discuss students' applications with parents, friends or any other party without the student's consent and presence in the conversation.

What areas of study are available?
ARCH 301/CLCIV 301: Fieldwork in Classical Archaeology The course and the international DEPAS research program offer interested and qualified students the opportunity to participate in the excavations, archaeological survey, investigation and research of the legendary Bronze Age citadel of Mycenae, and the surrounding area in the region of Argolid, Greece. Successful completion of excavation and/or museum research, survey and associated tasks will earn a full Dickinson course credit (the equivalent of four semester hours), which satisfies the fieldwork requirement for the Archaeology major and minor, or constitutes a general credit for Classics and other related fields. Students will receive a letter grade for the course.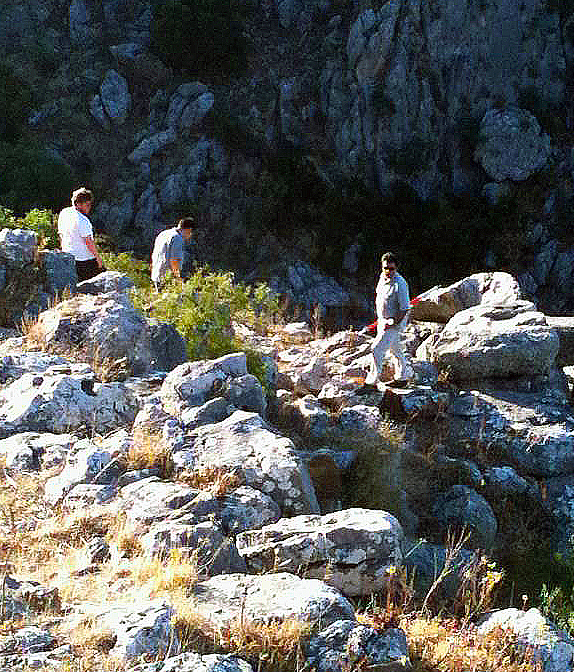 During excavation campaigns, the students will be trained in field archaeology by conducting the digging as trench assistants/masters under the direct instruction and supervision of the program director. Alternatively, during study/research periods, the students will conduct data collection and recording; pottery study and cataloguing; museum research; and systematic archaeological surveys, aided by remote sensing devices and techniques, of past and prospective dig sites.
What is the language of instruction?
Instruction is in English.
How many credits will I earn?
Students earn one Dickinson credit which is the equivalent of four semester hours. You may choose between ARCH 301 or CLCIV 301.
Will the courses count towards my major?
The course is a Dickinson course and will count towards the Archaeology or Classics major.
Will the grade count in my GPA?
Yes.

What excursions are available?
The program includes excursions to nearby museums and ancient sites in Athens, Corinth, Epidaurus, Argos/Tiryns, Nafplion, Pylos, Olympia, Delphi, Thessaloniki and other mainland sites and islands. These trips are designed to offer the students hands-on experience and a deeper understanding of Prehistoric Aegean and Classical art and archaeology, as well as to familiarize students with modern Greece.
What expenses are covered during excursions?
Lodging, a stipend for food, local transportation and entrance fees are included in the program fee. Students will not be reimbursed for snacks, personal travel and personal activities during an academic excursion. Excursions deemed optional by the director may require additional payment on the part of the student for participation.
When will I find out where and when we're travelling?
Specific dates for excursions will be announced at the beginning of the program.
Can a friend or family member who is not on the program also travel with us?
No, unfortunately, for logistical and academic reasons non program participants are not able to join the program for excursions.
Are excursions optional?
Not necessarily. The excursions are linked to your academic program and, in some cases, content delivered through the excursion will be relevant to a student's studies and assessment. All students should plan to participate in all excursions. If a student misses an excursion or a planned departure for a trip, these arrangements and costs will not be made up for the student. It is each student's responsibility to be where they need to be in order to participate fully in each academic excursion.

When is orientation?
Orientation is held on-campus in April. Non-Dickinson students are expected to join orientation via skype or phone. An on-site orientation will take place when students arrive in May.

What are the program dates?
The program dates are Saturday, May 27, 2017 (arrival at Thessaloniki) to Monday, June 26, 2017 (departure from Athens).
Is there a group flight?
Program participants arrange and pay for their own individual flight. You will be given specific instructions for when you need to arrive and depart from the airport in Athens. Transportation will be provided to/from the airport. You are required to submit a copy of your flight itinerary to the Center of Global Study and Engagement via your online application. Students should not make flight arrangements until you receive instructions from Professor Maggidis.
What if my family wants to visit me? When will I have time to travel?
The program is very intensive and you will have very little time for personal travel. You can make time for personal travel after the program ends.
Can I arrive early or stay after the program ends?
Students may arrive early or stay late if they wish to travel on their own when classes are not in session. Please note that if you choose to arrive early or stay late, you will not be able to stay in your program housing. You should also consider your visa validity when you make the decision of whether or not you may arrive early or stay late. No student may arrive late for the start of the program.

How much does the program cost?
The program fee is $6,000.
What is included in the program fee?
The fee includes tuition, room, board, academic excursions and emergency insurance. Airfare and visa fees are not included. The budget sheet also lists additional fees students should anticipate.
How will I access my money while in Greece and how much extra money do I need to bring?
There are ATMs everywhere in Athens, Argos, Nafplion, and Mycenae, should you need extra cash. It is recommended that you have some cash or preferably a credit card for incidentals or personal expenses (avoid travelers checks). It is advisable to let your bank or credit card company know that you are leaving the country to avoid problems while you are abroad.
Will I receive a stipend?
You will receive a weekly stipend of approximately €50 to purchase food outside of what is provided by the program (breakfast and main lunch during the week). There is also a cantina just outside of the entrance of the archaeological site for purchase of food at the 10am break. Alternatively, you will have the opportunity to purchase food at a grocery store. There are a few tavernas and restaurants at Mycenae for eating dinner. Great places to dine at Nafplion by the sea or in the narrow paved streets of the old Venetian port city.

Where will I live?
The excavation team will be housed in double or triple occupancy rooms at the Petite Planet Hotel in Mycenae, Greece. The rooms are very clean, with private bathroom and shower, air-conditioning units, and private balconies. There is a refrigerator for common use on the first floor, a washing machine in the basement for a small fee, and free wireless internet, and a swimming pool. The program will provide transportation to/from the hotel to archaeological site and on field trips.

How do I access health care?
Your health and safety is of the utmost important to this excavation. The village of Mycenae is served by emergency medical facilities and a local physician, while the city of Argos is served by a hospital. The director will be on-site to handle any medical issues and has also made arrangements with his assistants and local liaisons in case of emergencies, and many members of staff are trained in first aid and first aid kits are present at all times on site.
Dickinson also provides students with medical and travel security assistance through International SOS. See health and insurance abroad for more information.
Can I conduct additional research while on the program?
Your work will be part of the greater body of research conducted at the Mycenae site. Students with specific areas of research interests should discuss opportunities with Professor Maggidis before the program.

What is a visa?
A visa is a document, normally affixed within your passport, which allows you to enter the country and stay for the duration of your program. The requirements for the visa and visa process are controlled by the government of the country you are entering, are non-negotiable, and can change regularly. If you arrive without the proper visa, you will be sent home by immigration officers at your own expense.
Do I need a visa/passport?
Students are required to have a passport that is valid at least six months beyond the end date of the program. If you do not have a passport or need to renew your passport, please apply as soon as possible. It can take at least six to eight weeks to receive a new passport. At this time, the program does not require a visa for U.S. citizens.
If I'm not a U.S. passport holder, are there any additional requirements?
Yes, if you are NOT a U.S. citizen, it is your responsibility to research and familiarize yourself with any special requirements for a student visa. Also, you are responsible to secure any special entry papers or documentation that may be required for the visa. Please contact the Greek embassy or consulate in the U.S. or your home country for further guidelines and assistance. You may need to apply in person at the embassy or consulate in your home country. If a visa is required, the cost of the visa is not covered by the program and will be the responsibility of the student. CGSE may be able to help you with some of the required documents. Also, you will need to inform the International Student and Scholar office that you will be studying outside of the United States and discuss how you will remain in valid F-1 status during your studies abroad.

Global Ambassadors are returning study abroad students who serve as peer advisors for the program. Please feel free to contact the CGSE for a student perspective contact information

Contacts
Advisors (Please call for an appointment)
Center for Global Study and Engagement
Dickinson College
717-245-1341
global@dickinson.edu
Professor Christofilis Maggidis
Department of Archaeology
Dickinson College
P.O. Box 1773
Carlisle, PA 17013-2896
Tel: 717-245-1014
Email: maggidic@dickinson.edu
On-Site Administration
The program director, Associate Professor Christofilis Maggidis, has many years of field experience at various sites in Greece, including Mycenae. He will be on-site for most of the week, and will also make arrangements with his assistants and local liaisons in case of emergencies. The program director and the students can be reached by phone and cellular phone at the site and at the hotel.