This page is the brochure for your selected program. You can view the provided information for this program on this page and click on the available buttons for additional options.
The Arts and Activism: Trinidad and Tobago Mosaic
Port of Spain, Trinidad and Tobago
(Outgoing Program)
Featured:
There are currently no active application cycles for this program.

THE ARTS AND ACTIVISM: TRINIDAD AND TOBAGO MOSAIC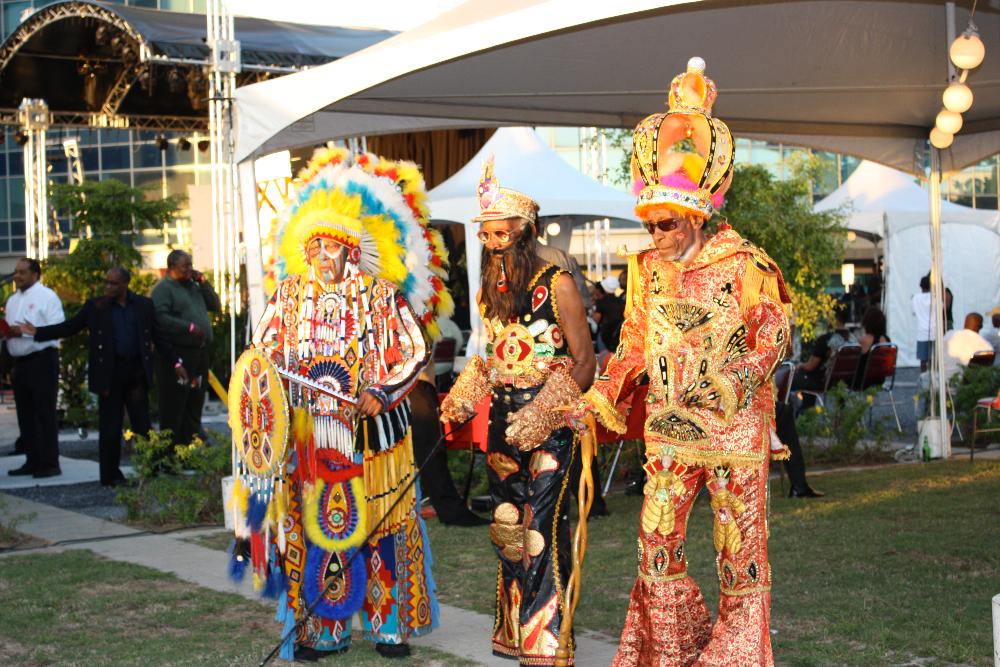 Traditional Masquerade: Fancy Indian and Sailor Mas'


Description:
Students from all majors are invited to apply to the full semester Trinidad and Tobago Festival Arts Mosaic. The Mosaic integrates a three-week research trip (Thursday, January 29th to Saturday, February 21st 2015) to the twin island nation of Trinidad and Tobago. During this mosaic, students will be introduced to the history of the Caribbean region, its politics, culture and economies. Focusing intensively on one ethnographic site, the mosaic examines visual, musical, and expressive arts and their role in the postcolonial politics as experienced and performed by citizens, returning migrants, and visitors to this independent Caribbean state. Students will be challenged to consider the role of the arts in the politics of the nation and its diaspora.
The mosaic offers a comparative view of Caribbean cultural life, spending time in the heavily industrialized, ethnically plural island of Trinidad as well as the more pastoral, tourist-oriented, ethnically homogenous island of Tobago. Through readings, lectures, guest speakers, site visits, participant observation, interviews, visual documentation (photography and filming), and hands-on artistic production (via internships and workshops), students will develop their knowledge of the region and explore the nature of the relationship between the arts, socio-cultural development and sustainability, identity politics, and economics.
In addition, we will investigate the influence of local activities on migrant populations who return to the Caribbean to partake in festivals and significant cultural moments, as well as the transnational movement of these artistic practices.
Objectives:
• Learn about Caribbean society, culture, history, politics through traditional scholarly materials;
• Develop specialized knowledge of one ethnographic site (Trinidad and Tobago);
• Develop knowledge of Trinidad &Tobago's expressive cultural and artistic traditions through engagement with collaborators in the field and experiential learning activities;
• Build upon proficiency in research, analysis and dissemination techniques (writing, visual, and/or performative).
Themes:
• Festival Arts/Visual Arts/Musical Traditions
• Caribbean Identities & Performativities (ethnicity/race/nationality, gender, sexuality, religion)
• Caribbean Migrations (historical, local, regional, and transnational connections to the North America and Europe)
• Sustainability & the Environment (in art production, in activist politics, in cultural production, as a historical response to limited resources)
Outline of Program:
• 10-12 students and two professors
• 3-week program in the spring 2015 semester during Trinidad Carnival season (Carnival Dates: February 16-17 2015);
• Courses will include weekly artists' presentations;
• Attend performances/artists/festival events and eventually Carnival in the community;
• Engage in an experiential learning component/internship;
Upon return to Carlisle, students will complete the course readings and engage in analysis of the data collected while in the field, completing the research projects they started in Trinidad. Primary research will be done in the field, with secondary research and analysis conducted back at Dickinson.
Prerequisites:
None, but preference will be given to students who have demonstrated an interest in the Caribbean and its diaspora or visual and expressive culture, or who have successfully completed an introductory course related to the theme of the mosaic (e.g., Introduction to Africana Studies, Introduction to Caribbean Studies, Introduction to Latina Studies, Workshop in Cultural Analysis and Caribbean Diasporic Identities)

Courses:
Students will register for the four courses listed below that are related to the mosaic. During the Winter break, students will begin reading texts in preparation for the mosaic. A list of the required reading materials will be sent to students during the Winter break. We will meet with students the first week and a half of classes (January 19-27, 2015) to provide the historical and cultural grounding necessary for this mosaic.
Introduction to Caribbean Visual Culture
(AMST 200/AFST 220)
Professor Jerry Philogene
Tuesday and Friday, 1:30-2:45pm
This interdisciplinary course introduces students to the study of visual culture. This course surveys visual cultural production (visual arts, photography, performance art, film and video, and new media) produced by artists of Caribbean descent during the twentieth century. Students will study the theories and methods of visual representations to examine how national identity, ethnic identity, racial formation, class difference, gender inequality, political struggle, and state violence have been addressed by artists from the region and in diaspora. We will draw upon approaches in art history, visual culture studies, Caribbean cultural studies, and critical race studies to discuss the cultural, political, and aesthetic implications of the key thematic priorities and political challenges that have defined Caribbean visual culture since the beginning of the twentieth century. More importantly, students will be exposed to critical and methodical insights on questions of citizenship and ways of interpreting diaspora, globalization, and transnationalism.
Workshop in Cultural Analysis and Methodology
(AMST 200/AFST 220)
Professor Jerry Philogene
Monday, 1:30-4:30pm
This workshop provides an introduction to the theories, methods, and tools of cultural analysis. This course will also introduce students to methods of empirical research in cultural analysis including participant observation, structured and unstructured interviewing, oral history, photography and videography. We will read a range of theoretical and methodological approaches from semiotics, sociology, cultural anthropology, critical race theory, and cultural studies, among others. In addition, we will explore the interplay between cultural practices and representational practices (such as race, class, sexuality, and gender) and social structures and institutions (such as the nation, the state, and the economy). During this course, students will be researching, analyzing, writing and/or producing, and workshopping a research project begun during the three-week mosaic. They will sharpen their skills as critical readers, researchers, writers, and producers of cultural analysis.
Anthropology of Music in the Caribbean
(AFST 310/ANTH 345/LALC 301)
Professor Patricia van Leeuwaarde Moonsammy
Thursday, 1:30-4:30 p.m.
Artists as individuals have had a tremendous impact on the lives of Caribbean people. Yet, in the Caribbean, the arts are as much a community enterprise as they are an individualistic endeavor. This course explores the contours of Caribbean society, thought and cultureor polarize communities), resist oppressive regimes, build nations, and celebrate life.
The Caribbean and its African and Indian Diasporas
(AFST 310/LALC 301)
Professor Patricia van Leeuwaarde Moonsammy
Tuesday and Thursday, 10:30-11:45 a.m.
This course uses a comparative framework to theorize diaspora and to consider processes of creolization and hybridity that are the result of interactions between Africans, Europeans and South Asian Indians in the Caribbean. In this course, we will trace the scholarly and artistic representation of people of African and Indian ancestry in the Caribbean. Focusing primarily on Trinidad, Guyana and Suriname, the Caribbean nations with significant Indo-Caribbean, as well as Afro-Caribbean populations, we will examine the anthropological, literary and artistic documentation and analyses of how Afro- and Indo-Caribbean ethnic groups have been shaped by similar experiences as laborers on plantations in the region, and how they in turn, have indelibly imprinted their traditions and cultures on their New World societies, creating distinct, new social and cultural forms and identities in the process. We will explore how interethnic relations, sexuality, religious practices, political processes, and festivity have been influenced by creolizing and "douglarizing" processes.

Calendar of travel:
Travel to Port of Spain, Trinidad: Thursday, January 29, 2015
Travel to Scarborough, Tobago: Monday, February 2, 2015
Return to Port of Spain, Trinidad: Thursday, February 5, 2015
Return to US: Saturday, February 21, 2015

Program Fee:
In the range of $3000
Calendar of application:
Rolling Admissions. Applications Accepted: May 1-September 30, 2014
Acceptance Letters Sent: May 15-October 15, 2014
Deposit Due: Two weeks after being accepted

Faculty Contacts:
Professor Patricia van Leeuwaarde Moonsammy
Department of Africana Studies
Althouse G20
moonsamp@dickinson.edu
Professor Jerry Philogene
Department of American Studies
Denny Hall 16
philogej@dickinson.edu